Prague is home to a vibrant food scene with restaurants that serve cuisine from all over the globe. Over the past few weeks, we've been scouring the best Thai cuisine in the city, part of Thai Select network.
No matter what your mood is. NOI is always an ideal choice for an enjoyable and tasty time. Exclusively designed for people seeking harmony, relaxation and delicious healthy Thai cuisine.
Restaurant Noi is a little off the regular tourist track so expect to be eating with locals at lunchtime and it's popular with expats for local business lunches.
Food
Don't get this mixed up with what they call "Asian" food. Noi has 100% Thai with gorgeous salads available and if fried glass noodles and shrimps gets you going then this is the place for you.
Some may find Thai soups like Tom Yam are too spicy so they have other soups that are just as tasty but, without the heat. First-timers should at least try the mixed starter.
Our favorites include: Tom Kah Koong (shrimp/coconut milk soup – not spicy) and Yam Woon Sen (glass noodles shrimp and pork mix).
A good choice for those who wish for a dish not as smoking hot, we suggest the 1 pepper (the mildest rating) Kai Phad Khing (Chicken fillet flavored with a taste of fresh chopped ginger, black mushrooms, spring onions, red chilies and soy bean sauce), the amount of fresh ginger is perfect!
For dessert, do not miss the Kluay Tod (fried bananas with vanilla ice cream)- yummy!
Interiors
A restaurant that feels more like a club, Noi is super-stylish with a chilled-out atmosphere and oriental design. The decor is based around lotus blossoms, lanterns and soft lighting.
The Zen interior is pleasant and comfortable complete with leather and wooden furniture and decorated with statues of Buddha, candles, and blooming orchids. At the back of the main room there is a big window through which you can observe the skillful hands of the Thai cooks.
The washrooms are also original and ladies will surely appreciate the high-quality cosmetics available on the washbasin.
Prices
Mains range from 150 to 300 CZK, or you can opt for the NOI full set menu for two people for 850 CZK.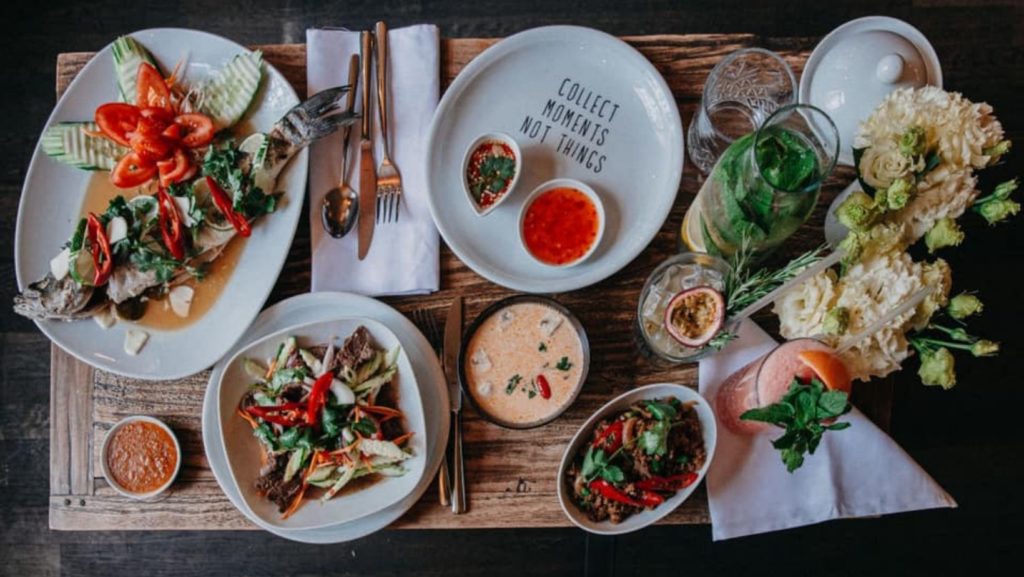 Conclusions
Lovely Asian theme, vogue vibes, outdoor seating area over the terrace, trendy DJ beats, authentic Thai cuisine, overall NOI is a perfect delight for those who are looking for a perfect authentic Thai food experience with a touch of modern club life of Prague.