The Czech Republic says it will expel 18 Russian diplomats, alleging that Russian intelligence officers – all those identified as SVR and GRU agents.
Prime Minister Andrej Babis said Saturday that the Czech intelligence agencies provided clear evidence about the involvement of Russian military agents in the explosion of 50 tonnes of munitions at a depot in Vrbětice in October 2014 in which two people died.
Czech police's organised crime unit had worked on the case for several years in cooperation with the BIS counterintelligence service and the Brno Regional Public Prosecutor's Office.
"The explosion led to huge material damage and posed a serious threat to the lives of many local people, but above all it killed two of our fellow citizens, fathers of families," Babis said.
Babis added the Czech Republic is a sovereign state and must react to those findings.
Interior Minister Jan Hamacek, who is also serving as the foreign minister, said those 18 Russian embassy staffers were clearly identified as Russian military spies and were ordered to leave the country within 48 hours.
Hamacek said he had summoned Russian ambassador Alexander Zmeyevsky on Saturday evening to tell him about the decision.
In 2014, a series of blasts took place in the munitions depot at Vrbětice in south Moravia. Two people were killed.
The warehouses were leased by the Ostrava company Imex Group. Police are investigating the explosion as a deliberate general threat.
Česko vyhostí 18 zaměstnanců ruské ambasády. Existuje důvodné podezření ze zapojení důstojníků ruské tajné služby GRU do výbuchů muničních skladů ve Vrběticích. Oceňuji práci našich bezpečnostních složek, policie a zejména NCOZ na odhalení této bezprecedentní skandální akce.

— Andrej Babiš (@AndrejBabis) April 17, 2021
Czech police officers simultaneously seek two Russian nationals who used passports registered to Alexander Petrov and Ruslan Boshirov. (While in the country, the men later switched to Moldovan passports under different names.)
The individuals' photographs, shared online by the Czech police, indicate that the two wanted men are the same suspected Russian intelligence agents accused of trying to assassinate Sergey Skripal and his daughter in England in March 2018.
Following the attack in England, investigative journalists identified Petrov and Boshirov as aliases for Russian military intelligence officers named Alexander Mishkin and Anatoly Chepiga. The statement from the Czech police does not mention the attack against the Skripals.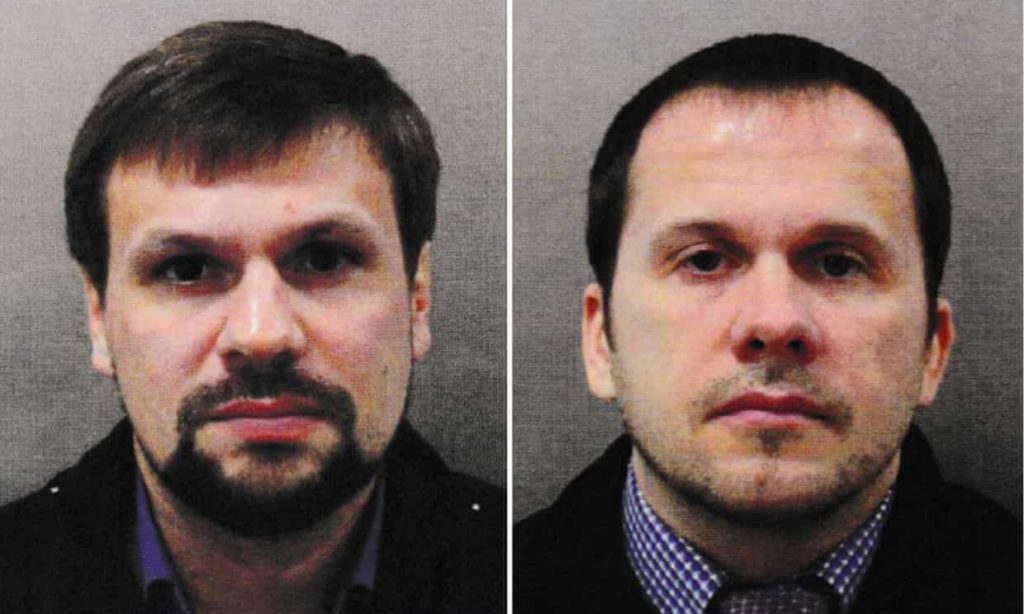 Europe on alert as Russia steps up aggressive spying
From Austria to Bulgaria, the Netherlands, Norway, and Sweden, Russian diplomats have been expelled from several European countries in the past few months over Moscow's increasingly aggressive spying tactics.
On Thursday, Poland said it had expelled three Russian diplomats for "carrying out activities to the detriment" of Poland.
The issue has become all the more acute over alleged cyberattacks by Russia on the US, which Moscow has dismissed as nonsense but prompted the EU to issue a strong statement of solidarity.
Italy was the latest country to send Russian envoys packing earlier this month after a navy captain was caught handing over classified documents to a Russian agent. Italian Foreign Minister Luigi Di Maio summoned Russia's ambassador to Rome and expelled two diplomats over what he called a "hostile act".