Born in Leitomischl, Bohemia (now Litomyšl) on this day in 1824, Bedřich Smetana was performing as a pianist by the time he was six years old.
His childhood friend (and future wife) Katerina Kolar helped him secure piano lessons with the composer Josef Proksch. In 1840 he wrote in his diary that he aspired to be "a Mozart in composition and a Liszt in technique."
His early compositions impressed Franz Liszt enough that the Hungarian composer offered to find him a publisher.
Smetana spent several years in Sweden conducting the Gothenburg Philharmonic. It was during a visit with Liszt that he was inspired to become an original Czech composer, using music to tell stories drawn from history and literature.
Smetana returned home in 1861 where his second opera, Prodaná nevěsta (The Bartered Bride), became a major success and he eventually became conductor of the national opera. Even after losing his hearing due to illness, he continued composing at a prolific rate. "In these three years of deafness," he later remarked, "I have completed more music than I had otherwise done in ten."
During this period he completed what many consider to be his greatest work, Má Vlast (My Homeland), a series of six tone poems.
When Smetana was growing up, the official language of Bohemia was German. He now found himself, in his late thirties, learning his own native language, Czech. He set himself to learning the language, and practiced writing and speaking it daily. As his fluency improved, so did his prospects; he became music critic of the Czech-language newspaper Národní listy in 1864.
In 1874, as a result of a long illness, Smetana went completely deaf. Despite that, he continued composing and he died on May 12, 1884.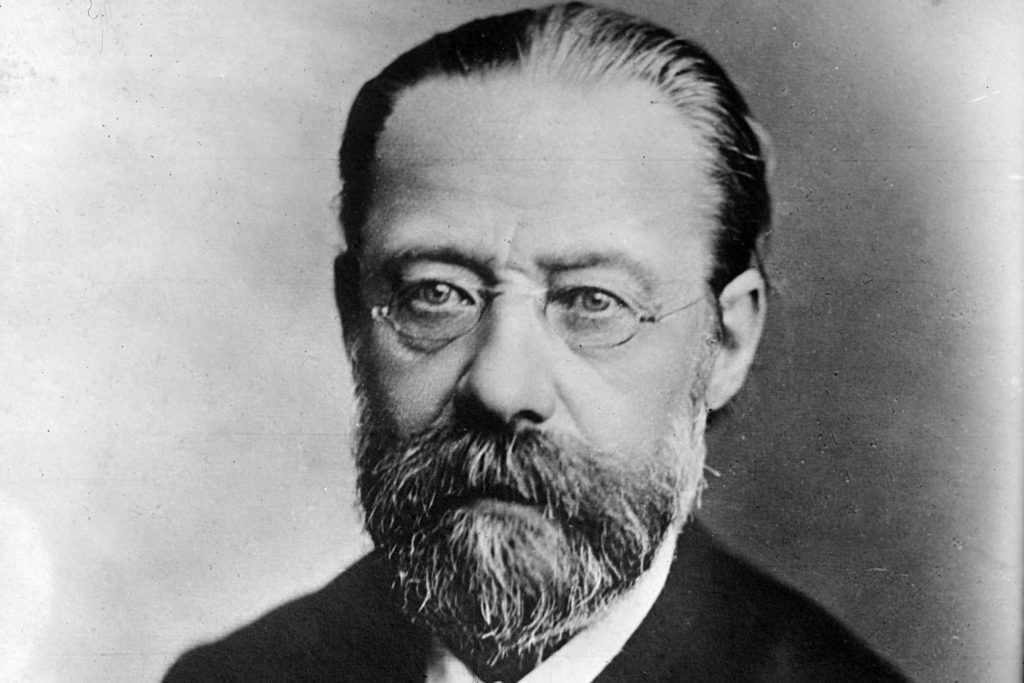 The National Theatre
On May 16, 1868, Smetana was one of those to lay the foundation stone for Prague's National Theater. It was the same day that his opera Dalibor premiered; this opera would have a lukewarm reception by the critics, despite audience enthusiasm.
Smetana's original manuscripts are preserved at a museum in Prague and his legacy lives on through the music to which he devoted himself.
Smetana's opera Libuše premiered at the National Theater on June 11, 1881. Smetana was invited to the premiere, and the audience loved the opera, calling back to the stage several times.
Not long afterward, the theater burned to the ground, and Smetana assisted in fundraising for the construction of a new building. On November 18, 1883, the theater opened once more – and the opening-night performance was Libuše.
Happy 197th birthday, Bedřich Smetana!