The second covid summer hit the short-term housing market even stronger than last year.
The latest statistics on the use of the Airbnb rental platform show that the number of accommodation offers remains the same as during the winter lockdowns, and is thus several times lower than last summer.
Many companies that managed short-term rentals had to quit due to a great decline in tourism.
In Prague, around 13,500 flats are intended for short-term accommodation, but only a fraction of them is active rentals. In the last six months, according to new data, only 1,215 flats were actually used, i.e. had visitors at least once a month.
During the whole of 2020, there were 8,796 offers, in previous years the annual values exceeded 12,000 flats. 
"For tourists that have already visited Prague, the idea of returning to the city during pandemic times is impossible. Thanks to the unified European strategy on the use of covid passports, some foreign tourists are visiting the city, but they are still a minority," observes the chairman of the Czech Association of Private Landlords and Residents Matěj Koutný. A year ago in June, 1,183 flats were rented for short term, this year only 145.
Prague City Councillor Hana Kordová Marvanová (United Force for Prague) continues to enforce the legal regulation of the service. "Municipal authorities register not only complaints about noise, but the high number of apartments used for short-term tourist accommodation has a negative impact on the functionality of the city, the amount of rent and fees, and the general availability of apartments," she said.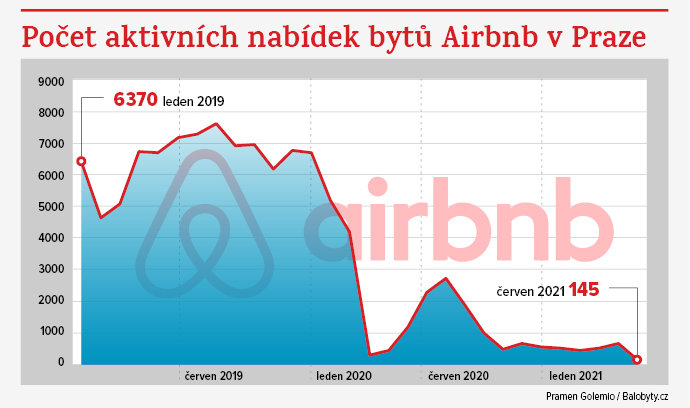 According to Airbnb, the extent of cancellations of reservations worldwide has decreased compared to last year, but it remains larger than before the pandemic. Trends in the use of short-term rents have also changed. While previously the service was used by smaller groups and couples, now families are increasingly interested in this type of accommodation.
Brian Chesky, the company's co-founder and CEO, also believes that the market has been affected by the global transition to at-home work. "About 24 percent of Airbnb customers now book stays for at least 28 days, while before the pandemic, only 14 percent of customers booked such long stays."
The decreasing use of short-term rentals in Prague has caused difficult times for entrepreneurs who make a living managing these apartments. "I can confirm that many entities have been forced to leave the market. Some expanded their business with long-term leases, but a large part was forced to leave the market," said Koutný, according to whom the government did not sufficiently support these entrepreneurs.
Management company Carebnb had to leave the market. "Unfortunately, we had to cease company operations due to the current situation. We don't know if we will start working again," said the founder Pavel Nádvorník.