From the noisy and crowded Wenceslas Square, proceeding Northeast for a couple of stops on tram n°9, you will find yourself catapulted into another reality, where the previous streets full of tourists, give way to the typical sounds, sensations, smells and aromas of the neighbourhood.
Žižkov, whose main area today lies in the Municipal District of Prague 3 – but which was actually an independent town until the 1920s – got its name from the Hussite leader Jan Žižka from Trocnov in 1877, a Czech general and hero of the civil war in Bohemia, whose historical and legendary figure is inextricably linked to Czech national consciousness.
The neighbourhood stands at the foot of Vítkov hill, a place in which Žižka, loyal to the ideals of Jan Hus, achieved a major military victory over the army of Emperor Sigismund in 1420, against a bigger army, made up of thousands of more soldiers, compared to those of the Hussite rebels.
On the hilltop, the stronghold of the Žižka Hussites, there is an imposing equestrian statue of the great leader (one among the biggest in the world), built by Bohumil Kafka in 1950, which represents him as a warrior.
Historically, Žižkov has always been a popular neighbourhood, especially during the communist period, when it became a symbolic place of the working classes, to such as extent as to become defined as "The red heart of Prague", due to the high number of residents, who were particularly loyal to the Party. For a certain period of time, it was connected to the district of Vinohrady, but then became an independent area.
Considered traditionally as rather "restless" and rebellious, Žižkov – with its nearly 58,000 inhabitants and an urban area of 5.44 km2 – is now a lively and dynamic neighbourhood and in the last few years, has changed quite a lot architecturally as well as in reputation, becoming, if not dangerous, at least rather disreputable, in a fashionable area, with an ever-increasing number of alternative clubs and small coffee bars, that have allowed the district to maintain – more so than in any other place in Prague – the reputation of "Bohemien".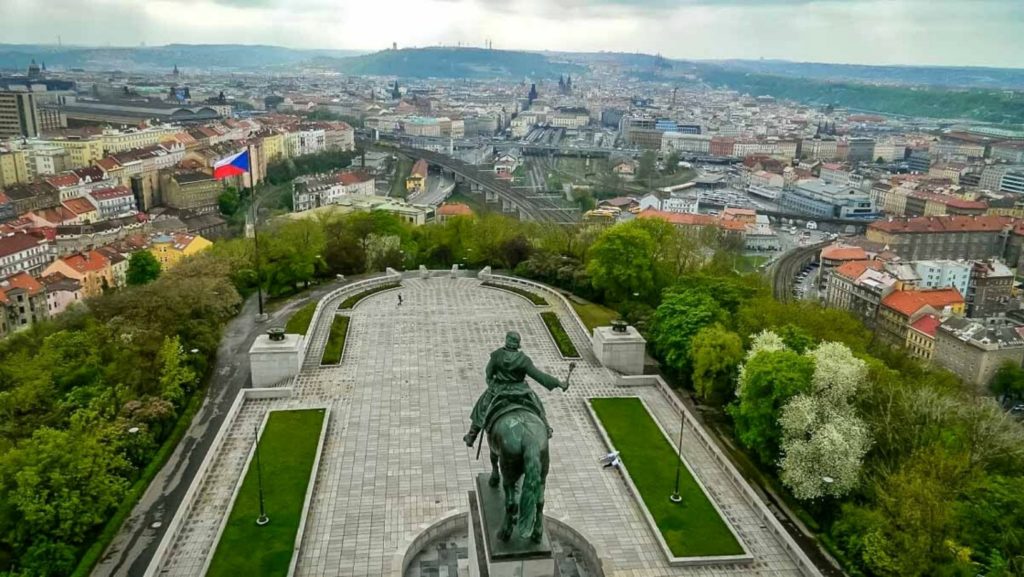 It is no surprise then if Žižkov has remained a meeting place for artists and writers, such as Jaroslav Hašek, and was the birthplace place of famous people such as the Czech poet Jaroslav Seifert – Nobel Prize winner for Literature in 1984.
The district is now also a destination for many foreigners who choose it as a favourite place in which to reside, fascinated by its charming aura of decadence and, certainly, also attracted by the famous pubs and clubs, where the Czech underground culture was born and developed, including other interesting cultural movements during the course of history.
The historical years with vast numbers of decayed buildings, neglected facades and downgraded areas, is now almost a thing of the past, and the neighbourhood, during the warm summer and cold winter evenings, is still an attraction for young people, who come here from all parts of the city to visit the symbolic pubs.
In addition to the traditional Czech pubs and taverns, numerous shops and restaurants have opened up in recent years, which sell ethnic products, set up in small spaces, which offer residents and visitors various kinds of oriental food.
Even from an architectural point of view, Žižkov displays unique features which makes it impossible to confuse it with any other district in the Czech capital.
Next to popular houses there are tall concrete buildings which overlook other wonderful Art Nouveau buildings, containing hidden courtyards, in a sort of architectural cacophony, but not without a charm of its own, which – engraved in stone, manifest the anarchic soul of the place, which is continually being transformed.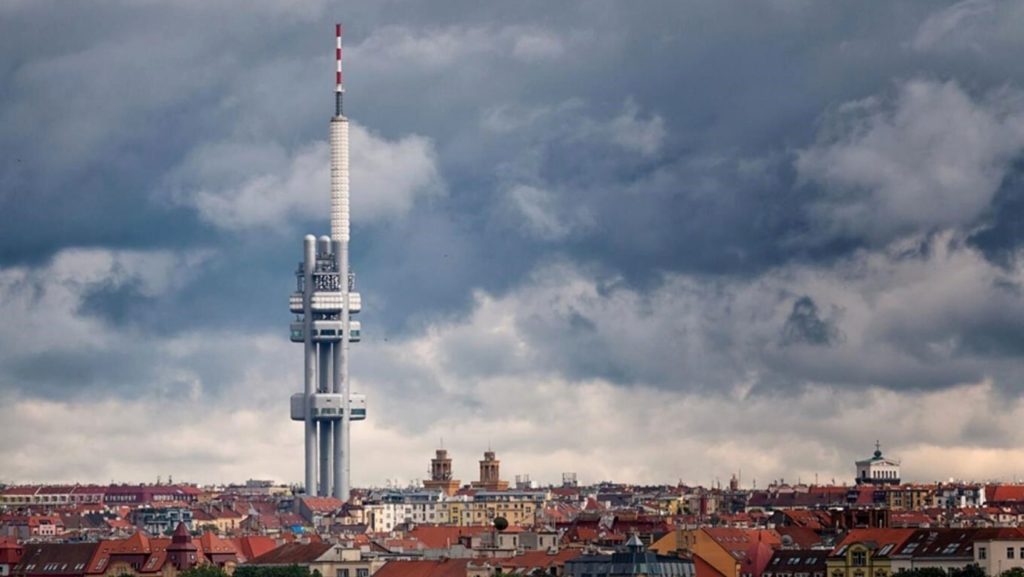 The famous TV tower built between 1985 and 1992, based on a design by architect Václav Aulický and illuminated during the night by lights, (with the colours of the Czech flag), is 216 meters high and is the tallest tower in Prague overlooking the neighbourhood with its fascinating yet disquieting profile.
Another important cemetery in the neighbourhood is the New Jewish cemetery, built in 1881 and located in a wonderful park with many trees, full of ivy. The place is visited regularly by numerous tourists, also because the great writer Franz Kafka is buried there.