Have you ever thought: "Do I need a therapist?". Starting therapy may seem like a big decision. People often say to themselves that the situation is as it is and it is necessary to just carry on.
How do we know when it is time to ask for help? Or what if you just feel that you need to share your thoughts with someone who will listen and understand…without starting therapy?
Therapy in the Forest (Terapie v lese) could be the perfect starting point that will help you to understand yourself better.
"I have been at a professional crossroads for about a year. A year ago, my business collapsed and I — exhausted, with a one-year-old son on my hands — was at the start of my profession again. I felt I needed closure on this topic. I expected to talk about my role as a leader; however, the journey with my therapist Hana completely exceeded my expectations. Very soon we got to my intimate topic, which is harmony between male and female energy," says Šárka, who experienced a 3-hour-long forest journey with Hana, an experienced therapist.
Therapy that doesn't feel like therapy
Therapy in the forest started in late summer 2019, based on the idea of accessible counselling when you stand at a crossroads or just simply need someone you can share your thoughts with and allow yourself to move forward. Sometimes a problem bothers us for a few weeks, months, or even years and sharing can help to clarify a solution.
Taking place within a naturally therapeutic outdoor setting, counselling while walking combines a physical experience with psychotherapy, mindfulness, and coaching. It is scientifically proven to help clients reduce blood pressure, improve strategic thinking, reduce anxiety, alleviate stress, and soothe anger issues. 
Šárka continues: "Hanka chose the hilly landscape of the Kokořín region for our journey. She explained to me right at the beginning that she is there for me, and that it is completely up to me what we will talk about or we can just stay silent. She literally connected to my pace of walking and thoughts, and from the first step together I felt safe and truly accepted."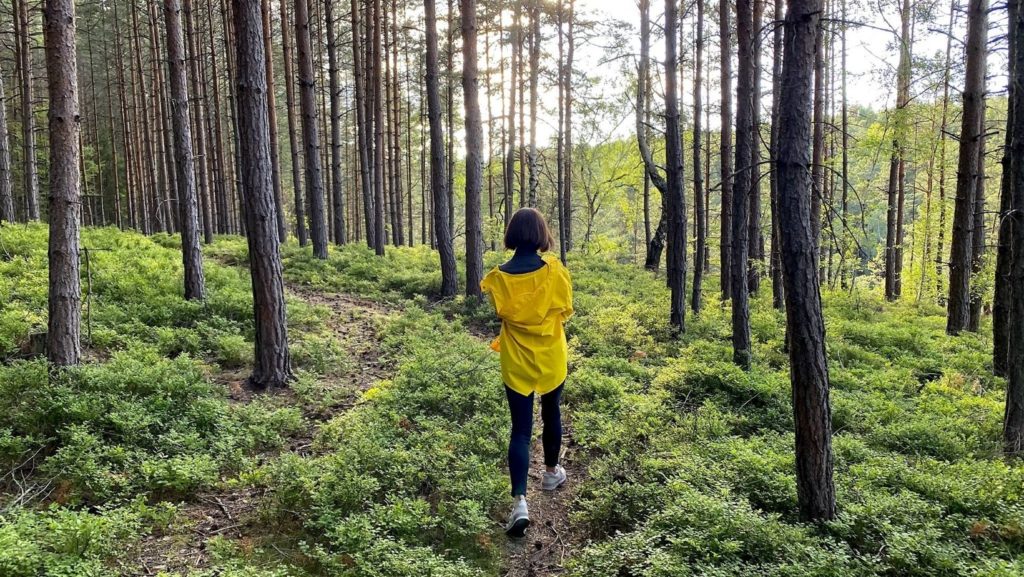 Providing counselling outside makes the session informal and comfortable. Therapists of Therapy in the Forest perceive that the outdoors helps with the partnership approach and completely removes the "white coat syndrome", feelings of tension and anxiety that we can experience within medical facilities.
Counsellor and client walk next to each other, they experience the same terrain and the same weather. It helps to make a bond and facilitate the conversation. 
Nature as a canvas
Therapy in the Forest is inspired by Shinrin-yoku, aka forest bathing, a popular activity in Japan. It is a mindful period of time in the countryside with a guide who helps you to stay in the present moment and enjoy the feeling of being outdoors.
Supported by the Japanese government as a way of preventive medicine, participants can enjoy this time in a variety of settings, e.g. next to waterfalls or lying under the stars, which takes place in one of the many centres across Japan.
We went a little bit further and selected guides who are professional therapists and psychologists. They guide you in your thinking and ask you the right questions. Thus nature gives another dimension to their counselling work.
Scenic outdoor settings that produce sounds, scents, and many other different types of stimulus help to recall memories, thoughts, and feelings during sessions. Nature is a great canvas for creativity: you can reflect on what you are experiencing and thinking about.
"Hana guided me to work with views from the surrounding scenery in a very sensitive way. During our journey, I literally experienced parts of my life story reflected. Metaphors from my life were lying on the path in front of us and around us. The rhythm of walking supports creative thinking in me, I have known about this effect for a long time," says Šárka.
In a 2012 study, researcher David Strayer of the University of Utah and his colleagues showed that hikers on a four-day backpacking trip could solve significantly more puzzles requiring creativity when compared to a control group of people waiting to take the same hike—in fact, 47 percent more.
In another study, Gregory Bratman of Stanford University and his colleagues found that those who walked in oak woodlands for 50 minutes experienced less anxiety, rumination (focused attention on negative aspects of oneself) and better performance on memory tasks in comparison to urban walkers. 
Visualizza questo post su Instagram
A deeper understanding than a few months of sitting therapy
The journeys take place on carefully selected forest routes around Prague. Terrain difficulty is chosen according to the client's request. We have provided both journeys of more than 10km long and also short walks combined with sitting on a blanket under a tree. The client and therapist also enjoy a small snack together. 
"On a three-hour trip, I got a clear idea of how I think about the role of men, women and leaders. It is interesting that I did not dive so deep into myself even during three months of regular therapy. Apparently, I am not the type of person who is motivated to think or develop myself while sitting within four walls," says Šárka.
An alternative is a shorter 1.5-hour-long walk that takes place in selected parks in Prague. You can go anytime of the day and easily during the week, simply anytime you need help to compose your thoughts or just relieve stress next to someone who will listen.
Both walks end with reflection, summarisation and a list of next steps. Therapy in the Forest can be a starting point in your journey to a happier and more fulfilled life.