In 2002, a flood struck Prague – as well as much of Europe – with equally harmful consequences. The Charles Bridge weathered it well, thanks to far more modern flood-protection measures.
The rest of Prague suffered some rather extreme damage.
On the morning of August 12th, Prague flood warnings were announced. Television showed public buildings and hospitals along the river Vltava being sand-bagged and towns north of Melnik were already becoming islands as the historic flood plains became saturated.
The area around Karlin was full of buses and vans evacuating to safer areas for all who wanted to go. Many news outlets were showing interviews with residents refusing to move saying that in all their lives they had never seen a flood that was being predicted.
Workers were busy filling sandbags and placing them in strategic locations. Prague's metro was closed, but they left it too late – the metro stations also flooded, and in some areas, the floodwaters came up to the level of the street entrances to the stations.
Hospitals had ambulances on standby to transport patients, and the Prague Zoo moved many animals to higher ground.
The Charles Bridge was closed, as were the other bridges. Then-President Václav Havel visited the bridge – only official pedestrian traffic was allowed – to view the rising waters. Malá Strana and Kampa Park were evacuated.
On the evening of August 13th the decision was made to evacuate the Old Town. 50,000 people were to be moved to friends or family in safer places, if they had any, or to nominated schools and colleges that were in Summer recess. Due to the ongoing Prague flood, people still arriving at the airport were given a stark choice, find your own accommodation anywhere you can or go back home. Many tourists spent that week on a camp bed in a school dormitory.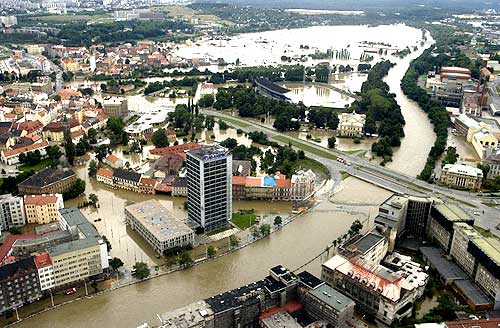 On the morning of August 14th Prague was a ghost town. Only buses ferrying people away from the flood threatened areas could be seen.
The metro anti-flood system had failed and 29 stations were now under water. Kampa Island was now flooded up to the first floor. Karlin was flooded up to the second floor. The water was over the historic defences and only 50cm below the extra protection which, if it failed, would cause flooding of the Old Town.
On the morning of August 15th the flood waters started to recede and the Prague flood damage was clear. Some buildings in Karlin and Florenc had collapsed. Kilometres of cobblestoned roads had been stripped of all foundations, piles of stones lay where the water left them. Structural engineers began inspecting all of the bridges and apartment blocks.