Which of the world's cities have the best parks?
abcFlora.com carried out a study gathering data relating to the parks in 60 of the world's best-known cities, allowing them to discover how busy each city's parks are, as well as how highly rated they are on Google.
This in turn gave them the means to generate a comprehensive ranking based on general park quality.
At the top of the ranking is Prague. The 13th largest city in the EU and home to over 1.3 million people, Prague's parks have an impressively high average review score of 4.59 out of 5.
While there are plenty of great choices throughout the city, some of Prague's most well-known parks include Havlíčkovy Sady and Letná park.
In 2nd and 3rd are Moscow (4.67) and London (4.56) respectively. Although these two cities are far more densely populated than Prague (Moscow with 12.5 million residents and London with 9.4 million residents) both of them maintained very high scores, with the Czech capital not far ahead of them.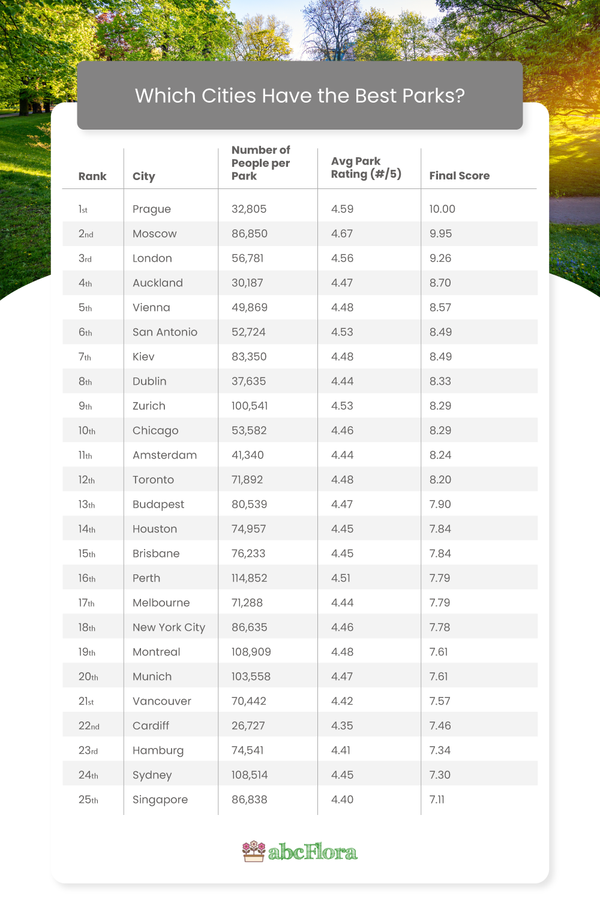 Now let's take a look at the other end of the spectrum – of the cities we analysed, which ones have the lowest scores?
The lowest ranking city on the list is the capital of Peru, Lima. Despite its parks having a respectable average review score of 4.29, the city suffers due to its particularly uneven ratio of parks to residents, with a total 453,448 people for every park. That said, the city is one of the larger locations to be included in our study – with a population of over 10 million, it's no wonder that it's so densely populated.
Lima is followed by Cape Town in 2nd and Athens in 3rd. While neither of these cities have as high average review scores for their parks as Lima, both have noticeably lower populations vs their park densities. Sadly for the Greek capital, many of its parks are shut at the moment due to concerns regarding numerous fires caused by Europe's unprecedented heatwave this summer.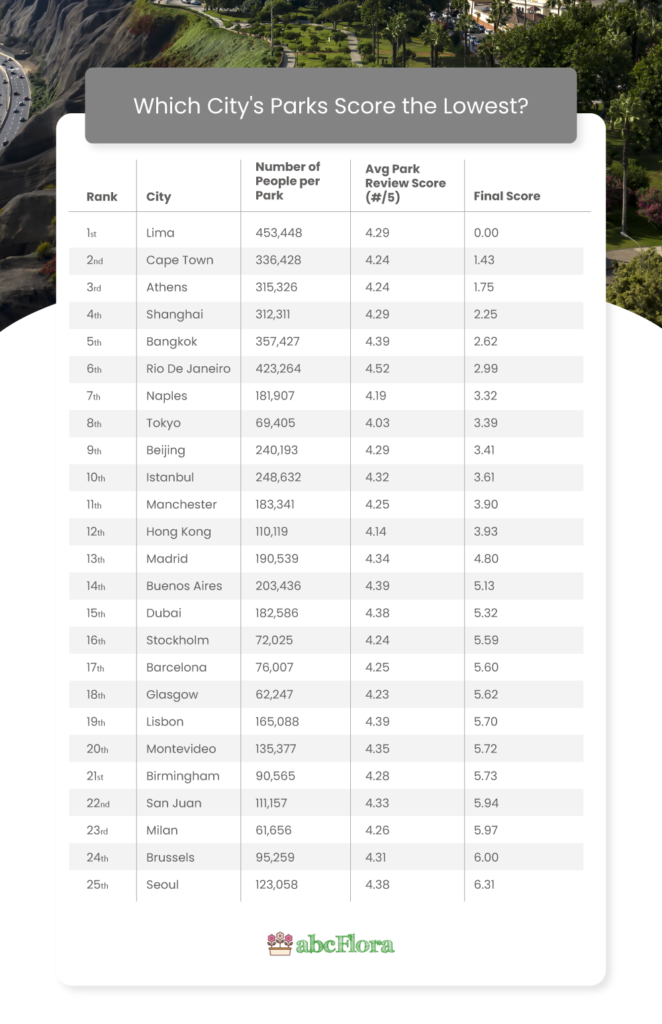 Methodology
abcFlora.com gathered data from several sources to collate our rankings.
TripAdvisor was used to find out how many parks are listed in each city, then divided each city's number by their respective populations to discover how many citizens there were for each park.
As for the review scores, we used the Google Places API to calculate the average review rating of up to 60 randomly selected parks within each city.
Once they had the data for each factor, we standardised their respective results using the following minmax normalisation formula:
Result = (x-min(x))/(max(x)-min(x))
This provided every city with a score between 0 and 10 for each data point. These numbers were then added together, the results were again normalised to a score between 0 and 10 and then ranked accordingly.