This past year has been rough for everyone who's longed for the competition and the camaraderie of participating in live road running events.
In an attempt to satisfy demand, many organizations including RunCzech have been staging virtual races until it's safe to host our traditional big celebratory runs.
In the meantime, RunCzech has come up with several ways of making virtual races even more exciting and more enticing. "For one thing," says RunCzech's Michaela Šimeček, "we're allowing runners to pick from a variety of different distances—marathon, half marathon, 10 km or a 4.2 km family MiniMarathon. And, in a twist on virtual marathons of the past, the RunCzech allows you to complete your distances over the course of several days."
Giving runners that option means you can take on a race that might otherwise be a little too challenging for you, and still add a marathon or half marathon to your running accomplishments.
RunCzech is also adding a significant charitable component to its virtual events. According to Carlo Capalbo, president of the RunCzech Organizing Committee, "We have invented a new twist on the ancient sport of marathoning with our "Battle of the Teams" program. Elite marathoners competing in teams of 8 runners each. As a component of that event, each team will designate a charity to support. And 10% of all virtual marathon registration fees will go to support them."
In trying to evoke the live race-day experience, RunCzech has created a new web platform providing a complete digital running experience.
Runners will register on line. Then pass through a virtual festival zone and runner's expo. They'll get their traditional "goodie bag" with their personalized start number, nutrition and training tips, access to Spotify playlists and podcasts (all share-able and download-able) and more.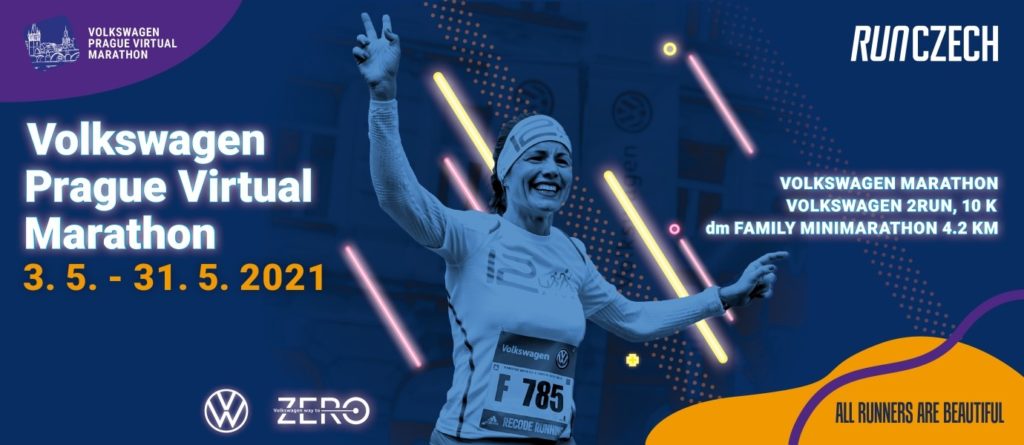 Upon completing the race, diplomas, medals will be mailed to all participants, along with other prizes and sample gifts from our partners.
Runners are apparently embracing the concept. 10,000 registrations have been made available overall. And 3,000 have already registered.
Priority is being given to those who had registered for the 2020 Volkswagen Prague Marathon, which had been cancelled due to the pandemic.
The event takes place from May 3 to May 31. Runners can learn more about how to participate and how to register here