The freshly named Piskáčkových street is in the city's Vysočany district.
Libuše Eichlerová was six years old when her uncle, the resistance fighter Jaroslav Piskáček and his family were arrested in July 1942 by the Gestapo.
"These are the death certificates of the Piskáček family. Uncles, aunts Tonička and Mirka. In Mauthausen, they were murdered by the Nazis," Eichlerová explains.
The last time she saw her aunt, uncle, and their then fifteen-year-old son was on holiday in Šumava. "They were very nice people, happy," she adds.
The family of Jan Piskáček were arrested in June 1942 after helping paratroopers Josef Gabčík and Jan Kubiš, who had carried out the daring assassination of Nazi governor Reinhard Heydrich in Operation Anthropoid.
On 28 December 1941, Jozef Gabčík and Jan Kubiš were, together with seven other paratroopers, dropped near Nehvizdy.
Preparation for the attack took a long time – the scheduled date of the assassination was not until 27 May 1942. In the intervening time, Kubiš and Gabčik studied Heydrich's movements, familiarizing themselves with his schedule, his habits, and the areas he frequented. Finally, everything was in place for the assassination to occur.
The morning of May 27th 1942, Heydrich left his mansion in the suburb of Panenské Břežany to commute to Prague Castle, his headquarters. He took his open-top Mercedes-Benz cabriolet, driven by another SS member, Oberscharfuhrer Klein.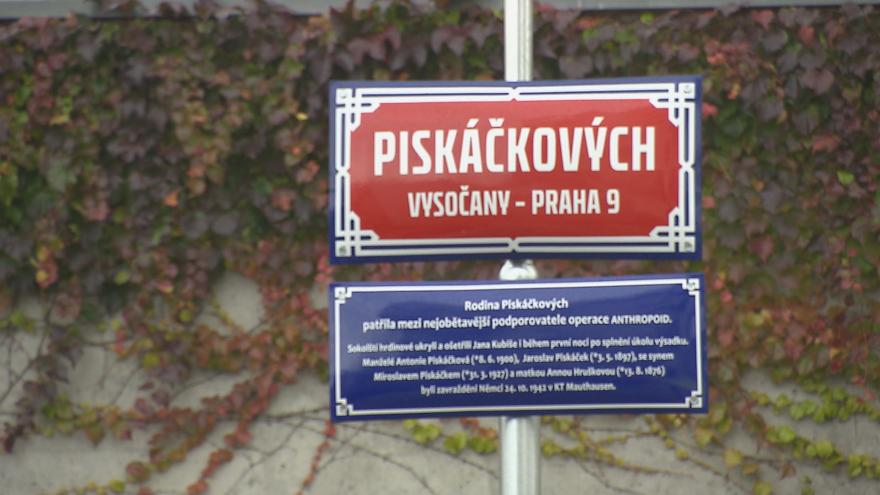 Kubiš and Gabčik waited at the tram stop at a sharp turn, where Zenklova street turned onto V Holešovičkách – a turn that Heydrich would not be able to see around. 2 minutes after they got there, Heydrich's car turned the corner, and Gabčik stepped out in front of the car with his Sten submachine gun and fired.
But – the gun jammed. Gabčik dove out of the way as the Blond Beast stood to shoot him with his pistol. Kubiš ran in and threw an anti-tank grenade modified to fit in a briefcase under the back left wheel of Heydrich's Mercedes.
The grenade detonated, blasting apart the fender and embedding fragments and horsehair upholstery in Heydrich's side. Heydrich then jumped out of the car and chased Kubiš, but bleeding profusely and weak from shock, he collapsed after half a block.
Heydrich was quickly shuttled to Bulovka hospital, conveniently located right next to the attack site. He was treated by the best doctors on site, and had the shrapnel removed, as well as his spleen, as it had been possibly infected by the horsehair upholstery. For the first week, he seemed to be recovering well.
Then, on day seven of his stay in the hospital, he collapsed while sitting up eating a noon meal and went into shock. He spent his remaining hours in a coma and died at 4:30 in the morning on 4 June 1942.