Prague 3 decided to fight cigarette pollution in a creative way. In the past few days, the City Hall has created and installed ten unique ashtrays.
The ashtrays are in the form of cigarettes – and they're huge. The move was inspired by a similar project in Vienna, which had been running for several years already.
The prototype for the large cigarette ashtrays was made by Jaromír Frek. "I wouldn't say the production was demanding. We did two versions, one pilot and one final. We were tinging paint and adjusting technical things," he says. 
The ultimate aim is to get people to throw the cigarette butts in the ashtrays, instead of leaving them on the ground. "Cigarette butts are garbage like any other and do not belong in public space. Cleaning from some surfaces is practically impossible," explains Jiří Ptáček, mayor of Prague 3. A loose cigarette butt only decomposes in 15 years.
If the project is successful, the cigarette ashtrays will be installed in more locations.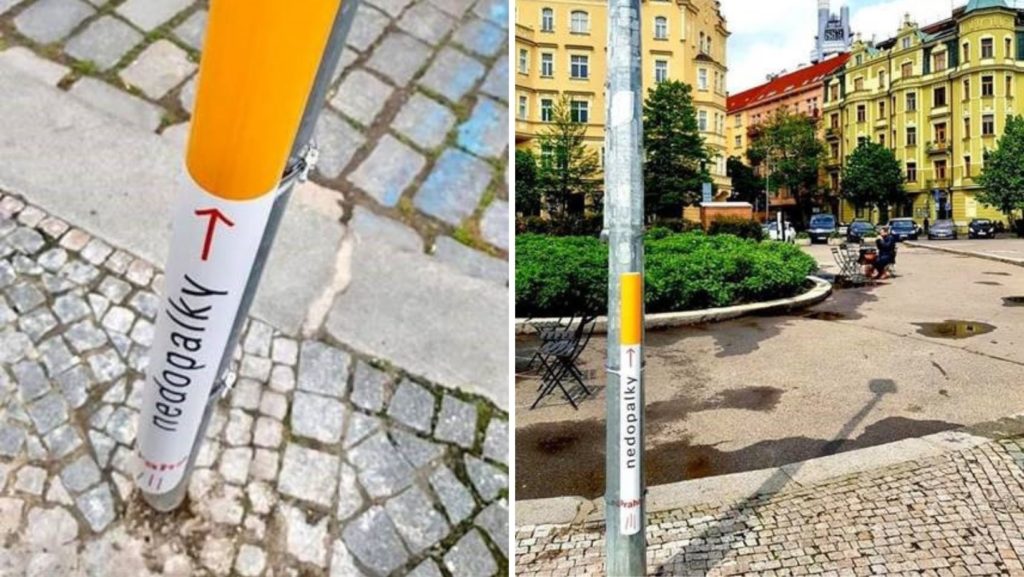 A total of ten ashtrays are located on Kostnice Square, in Seifertova, Lipanská, Koněvova and Biskupcova streets, two are on Jiřího z Poděbrady Square, another at the intersection of Táboritská and Ondříčkova streets and at the intersection of Vinohradská and Jičínská streets.
When the construction work is finished, ashtrays will be placed on Tachov Square and Lukášova Street.
"We select locations for the location of new ashtrays according to clearly defined criteria. These include, for example, heavy pedestrian traffic, the absence of baskets, subway entrances, entrances to underpasses and stops," says the mayor.
Ashtray dumps are scheduled once a month. The purchase of an ashtray, including installation, costs approximately CZK 3500.