Are you constantly wondering where to go on a trip in Czechia? You don't have to anymore – Placehunter mobile app gives you a handful of tips for trips.
Placehunter is a mobile app in English where you can find around 150 unique places to see in Czechia. In addition, you will also find practical information for each location – such as photos, place description, parking space, physical and time requirements, weather forecast for the place, whether the area is suitable for strollers, dogs, camping, and more.
"The goal was to create an app with all the information the user needs to know before the trip, so they don't have to look for anything else and can spend the trip without headaches," says Eliška Hudcová (travel blogger), who is one of the two creators of the app.
Her fiancé Jarda is a graphic designer, who has his own company specializing in creating mobile and web applications, so all the development was done in-house.
The idea to create a placehunter started during the first wave of covid-19. As passionate travelers, they couldn't travel the world as they were used to. And so they began to discover Czechia, but they often spent an incredible amount of time searching the information that was very difficult to find.
That's why they decided to create an app that solves this problem and shows people places they have had to look for hours and hours in one helpful app. Going around all areas is logistically very demanding, but for Czechia, they chose it themself to oversee the quality of sites and their processing. Both of them have personally visited all the recommended places.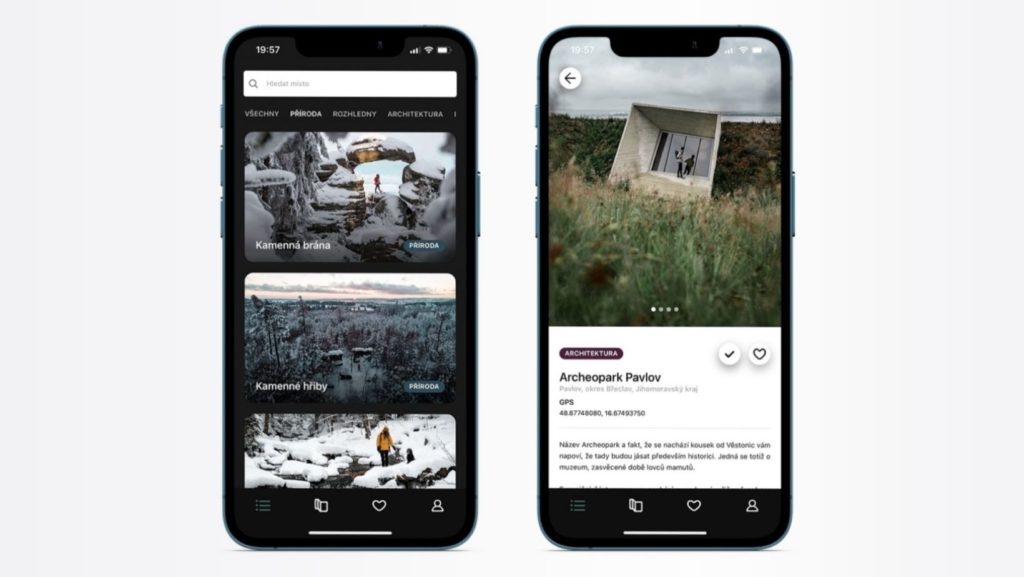 The app has a free and paid version; in the free version, the user will find 20 full-fledged trips. They are not truncated in terms of information or functionality, so the user can get a picture of what type of places they will find in the app and how the whole app works. In the paid version, all 150 sites with complete information are then available.
The premium version costs CZK 54 / month in the case of an annual subscription or CZK 79 / month in a monthly subscription.
You don't need to worry about running out of places – they are regularly adding new ones, so it doesn't happen that there is nowhere to go.
Eliška and Jarda are constantly working on new functionalities that will simplify trips even more. In the latest update, a filter or a link to the place's official website has been added – so that the user can check, for example, the opening hours.
In the future, they would like to expand the map to other European countries, and they also play with the idea of adding interesting bistros and restaurants or selected accommodations.
Still, so far, these are just plans. Now they want to focus on the Czech Republic and work with the application so that quality prevails over quantity.