Manifesto is expanding to a new location in Prague's Andel district with an ambitious open-air, all-seasons food hall.
A new modern concept will embrace thirteen kitchens and ghost kitchens, two large bars, and a planned capacity of up to 500 seats.
The project will revitalize a dead urban corner and make it more friendly using modular architecture sustainably powered by clean energy from renewable sources. For the first time, Manifesto will introduce a vertical hydroponic farm to showcase a futuristic trend in growing fresh produce in an urban context.
Manifesto is a rare example of reversible design. The architects were briefed to reuse all the units and materials moved from the previous location and to improve the adjacent street. It will be possible to split the space into several separated zones.
"Andel is the perfect location to deserve such a project, it's a great fit. Honestly, I can't wait to see this open, because it will revive the site of the former Vietnamese market and completely change the visitors' demographic, which will increase the safety of this neighborhood. It will become a beautiful place for active people and families with children to meet. I am convinced that Manifesto will increase the attractiveness of Andel, seen as a larger center of the metropolis." -Renata Zajickova, Mayor of Prague 5.
"Nothing compares to the beauty of being outdoors, and recent limitations have increased our desire to breathe and relax, al fresco. Manifesto pursues its expansion as planned. Outdoor dining in a cashless place is the safest option for how we can meet with friends and enjoy social life. At the same time, Manifesto doubles as a ghost kitchen, making recipes optimized for delivery," explains Martin Barry, the Founder of Manifesto Market.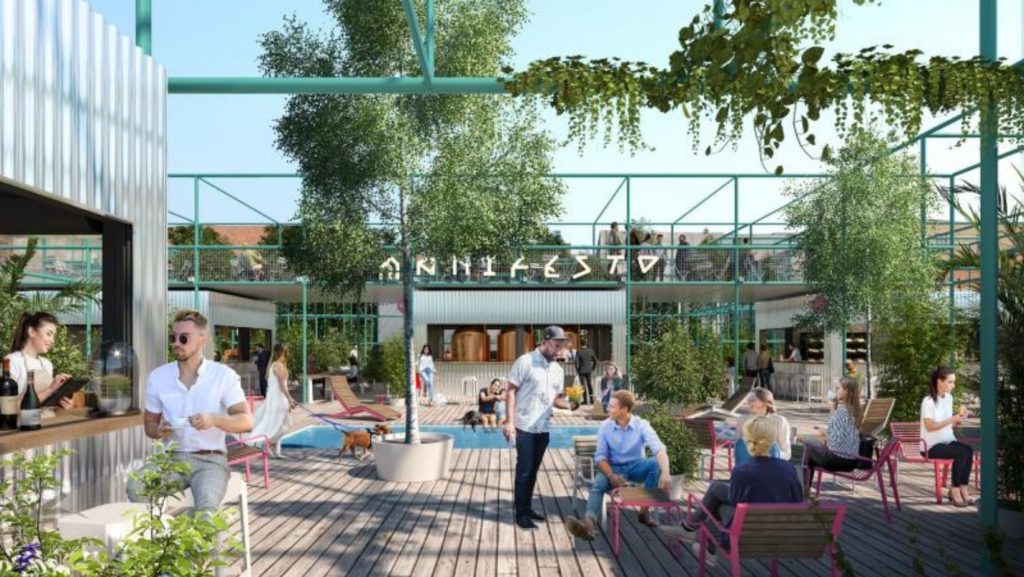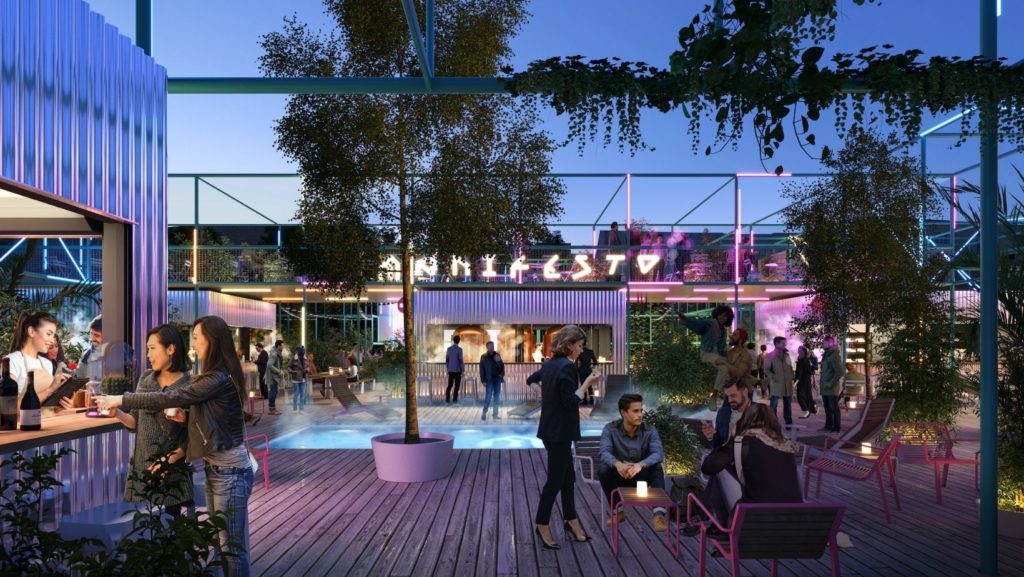 Manifesto sees huge potential in profiling Andel as the future gastronomic and recreational number one hotspot of Prague, in synergy with other brands in the neighborhood. Visitors will be able to choose food from thirteen restaurants offering a diverse menu of international cuisine.
Two main bars will tap beer, focus on original cocktails, and a meticulously curated selection of wines. Manifesto will feature a vertical hydroponic farm by the startup Greentech, showcasing how herbs and leaf vegetables can be grown without any soil requirements.
The new address is located a stone's throw away from Manifesto Smichov–launched in 2019–which reopened in May 2021 after a long, covid-induced break.
The space is designed by the same architecture studio, Chybik+Kristof, and the philosophy of reuse is instrumental to the new project.
The market's size has tripled, providing generous, distanced seating options. The market will feature a central pool, along with a covered performance scene to be added later.
Additionally, Manifesto considers covering the roofs with green micro plants growing on blocks of recycled textile waste, use rainwater for cleaning and plant watering, and finally, implement a smart compost system transforming biodegradable packaging into substrate.