"Partly it was the COVID-19 pandemic that provided the impulse for Anglo-American University, whose core mission is providing a university education to high-school graduates, to jump-start the lifelong learning project, which has been a long time in the making," describes Eva Rivera, Vice-President for Institutional Advancement, in an interview with Prague Morning, as to what has led the university to open the AAU Academy in January this year.
"With colleagues, we were discussing our own experiences and lessons learned from the current situation and concluded that continuous, lifelong and professional learning is a key need of today's global society. Our world is rapidly changing and we need to advance our skills to stay relevant in the workplace, acquire the tools to embark on new career paths, or simply broaden our horizons and increase intellectual engagement in all aspects of life."
"Last, but not least: we all need to learn how to tackle the new professional and personal challenges the pandemic has brought upon us. AAU Academy courses thus go beyond career advancement, and can benefit all of us – our friends and peers, colleagues, as well as the international community living in Prague," adds Rivera.
Today, she has provided us with an interview and details about the courses of the AAU Academy, which is Eva's signature project at AAU.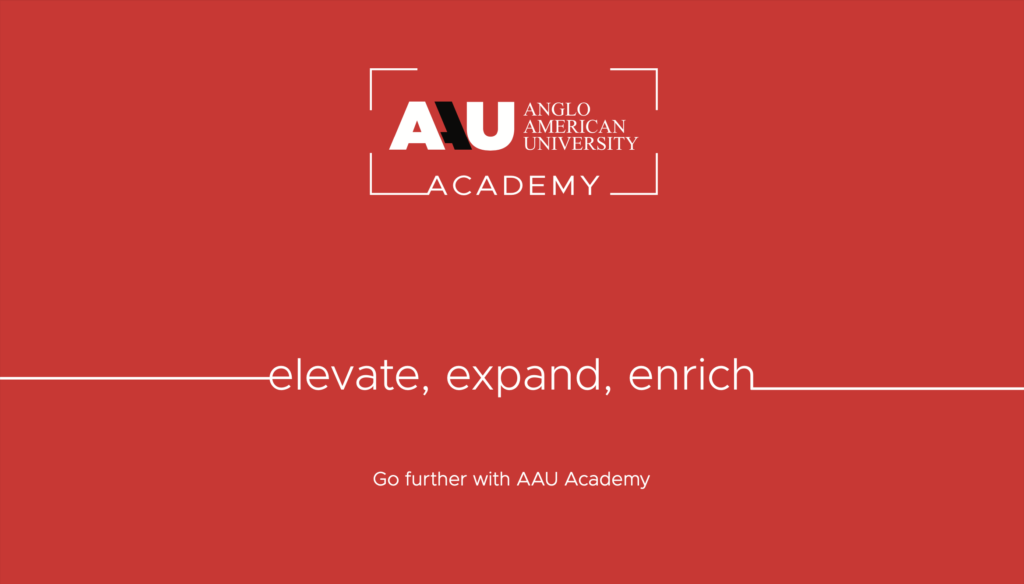 The AAU Academy was launched in the midst of a global pandemic, despite the challenges. What inspired the idea to create it? 
Indeed, the AAU Academy was launched in a very challenging year, as was  AAU itself, in 1990, just a year after the Velvet Revolution when AAU founders recognized the tremendous potential and significance of providing an educational "jumping board" into international career waters to local students. 
The idea for the AAU Academy, on the other hand, was born from our founding core values to innovate and connect the academic and research aspects with real-world experiences.
We acknowledge that lifelong learning is a key need of today's global society, in order to allow for advancing skills and staying relevant in the workplace, have the tools to embark on a new career path, or simply broaden horizons and increase intellectual engagement in all aspects of life.
As a Learning Hub, we want to extend the educational opportunities to different audiences within both local and international communities living in Prague and through our online courses, also globally. Everyone can find a course or a workshop that suits them and go further professionally and personally. 
What kind of courses does the Academy offer?
We currently offer three tracks of learning: Executive, Personal Advancement, and LovePrague.  The Executive track has workshops and courses crafted for mid and senior-level managers and can be complemented by Personal Advancement courses which focus on personal growth and employ the latest research and tools based on neuroscience and psychology. With LovePrague courses, participants discover the Czech capital's inspired – and inspiring – history and culture as they take deep dives into the city's architecture, art, music, and pop culture. The AAU Academy also works with high-profile certified coaches and offers corporate coaching packages.
Who would the Executive courses be best suited for?
Everyone, really. Let me give an example. If you're meeting with people and making strategic decisions on a daily basis, the Design-Thinking and Emotional Intelligence course could help you improve your leadership skills and bring about more effective, productive communication within your team, or among your employees. If you're working with a diverse group of people, then the Intergenerational Management workshop, available both online and in-person, provides you with the tools to turn your company away from intergenerational warfare and into a well-run company.
There are various professional development and other courses for adult learners in the market. What is it that makes your Academy unique?
The added value of the AAU Academy is a part of the story of how the idea emerged. AAU itself consists of an international and expat community and therefore the AAU Academy has first-hand knowledge of how to cater to the needs and interests of this community. Additionally, as part of a well-established international university, which partners with renowned universities in the USA and the UK, the AAU Academy also profits from the familiarity with an international teaching methodology.
Who are the instructors?
AAU Academy instructors are experts in their fields and bring real-world expertise to their interactive courses. You may have seen Tomas Klvana in the news (CT News), or you may have heard of Jan Zenaty, a psychologist and a passionate speaker, as one of the few certified Paul Ekman International course instructors in central Europe, and former leading consultant at the QED Group. One of the LovePrague courses is taught by a professor and musician, Pavla Jonssonova, from the band Zuby Nehty.
How can people register for these courses?
For both online and on-site courses, people can register by visiting our website. Alternatively, they can contact the AAU Academy team at academy@aauni.edu, who will be very happy to help out with any questions.