Beer, the oldest known recipe in history, is a global obsession, but annual trends in consumption and cost vary from country to country.
To find out just how much those costs might vary, Expensivity, an online money and finance resource, conducted comprehensive research to determine the cheapest and most expensive cities around the world to buy a beer in, both from the supermarket and at the bar.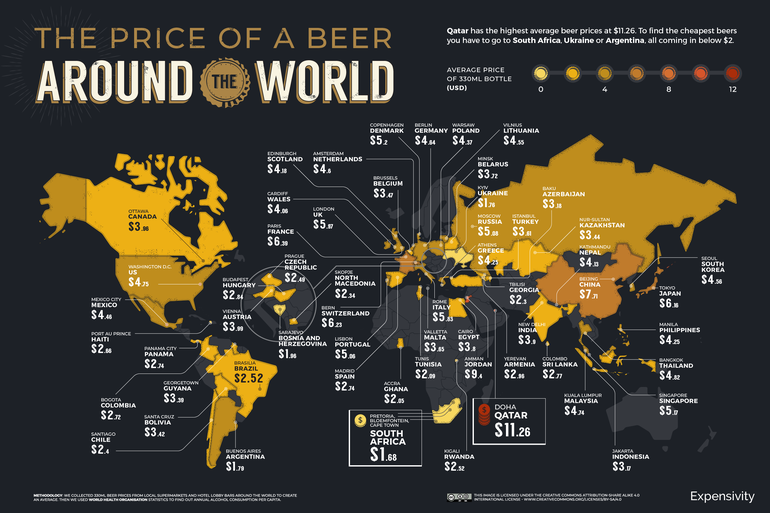 Expensivity found that Qatar has the most expensive beer in the world, costing an average of $11.26 per per 33cl (330ml) bottle. This is likely due to their 100 percent tax on alcohol imports ahead of the 2022 World Cup.
Beer in China doesn't look all that cheap either. But keep in mind that the money and finance site averaged the price of a hotel beer ($13.61) and a supermarket beer ($1.81). So it's clear the steep prices are aimed at visitors.
Germany Spends the Most On Beer
Haitians just aren't that into beer. Spirits account for a whopping 97% of booze consumed in Haiti, where people drink fewer than four beers per year on average, with an annual beer bill of $10.02. That's the lowest beer consumption and spend in our study.
At the other end of the scale, Germans spend just shy of $2,000 a year on beer. 15 countries with more expensive beer than Germany, but the nation sinks 411 bottles per person annually, so it pays the most in total.
The Czech Republic Leads the Drinking Contest
So, who's drinking all the beer? The Czech Republic takes the title, with 468 beers per person per year.
Haiti drinks the least beer, counted per bottle or per spend. Most of the countries with a low beer intake can credit their predominantly Muslim populations for abstinence. Armenia is an exception. The west Asian country drinks just 40 beers per person annually, with locals favoring brandy, vodka, and wine.
Key Findings
Qatar has the most expensive beer in the world, with an average price of US$11.26 per 33cl (330ml) bottle.
The cheapest beer is in South Africa, where the average price is $1.68 per bottle.
The Czech Republic has the highest consumption rate, with 468 beers per person per year.
Germans spend an average $1,907.78 per year on beer, the top figure in the study.