Article published in cooperation with The Prague Review
From Tuesday 11th May 2021, everyone over 45 years old, with Czech health insurance, can register to receive a Covid vaccination.
The process is relatively straightforward – the most important part is choosing a centre that has a short waiting list.
What you'll need:
Your Czech health insurance card.
Your name and address.
A mobile phone.
An email address.
If under 45, a special code that proves you're eligible to receive a vaccine early; healthcare, police, teachers, those with chronic illness etc.
An empty washing-up detergent bottle, some paper/card, adhesive tape and coloured marker pens.
Items 6 are only required if you also plan to build a model rocket ship with your kids!
Find the best vaccination centre as follows
Visit this website – all screenshots and instructions are from an automatic English translation in Google Chrome.

Choose your region and observe that the page updates to show vaccination centres in your area – the example below is Prague.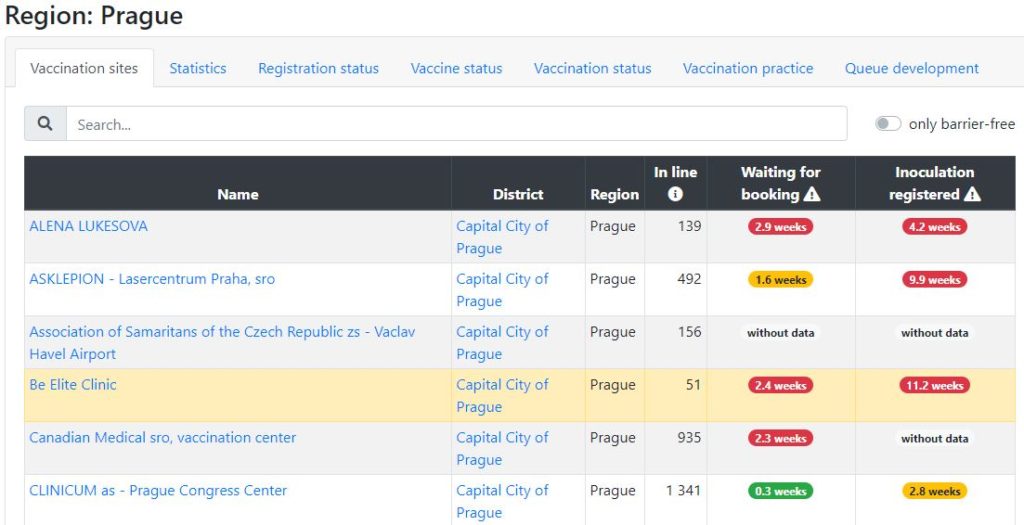 Look for a centre near to your address, that has the best scores in both 'Waiting…' and 'Inoculation…' columns. For example, this is the place I booked.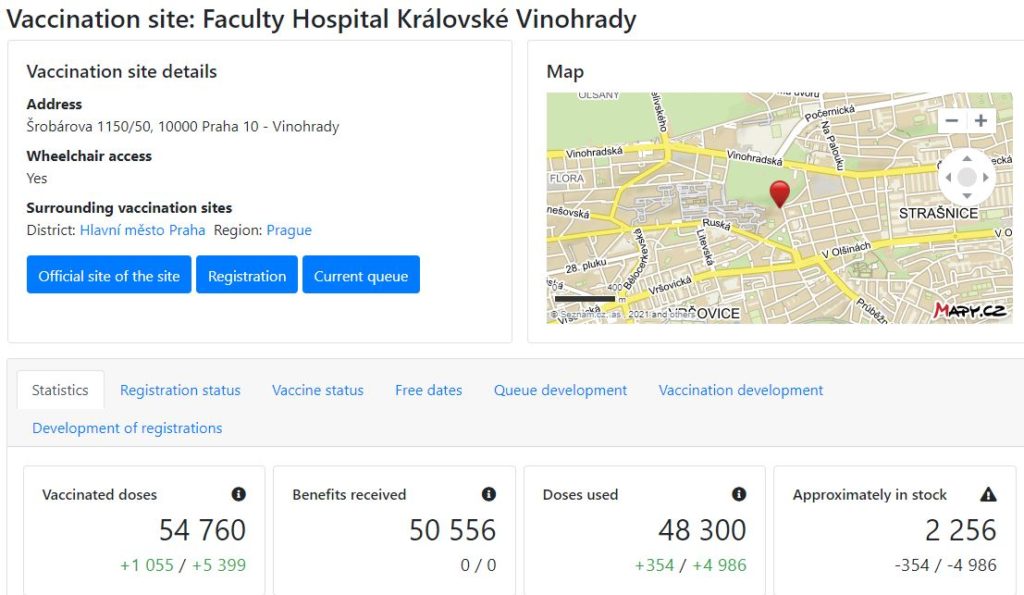 Register for a vaccination
Visit this website – all screenshots and instructions are from an automatic English translation in Google Chrome.
Enter your phone number, check the 'I agree…' box, and click Send. A 4-digit PIN arrives on your mobile. Page changes to allow a PIN to be entered.
Enter the PIN. Page changes to allow your details to be entered. Example shows when it was for over 50s – now 45.
Complete the form with your details. Select the vaccination centre that you chose earlier. If you choose anything other than 'Based on age…' you'll be prompted to enter a special code supplied by your employer or Doctor.
Page changes to show your request was succesful.
Wait for the PIN 2 code. If you chose a centre with a short wait time, this code could arrive within a few hours, but could also be several days.
PIN 2 Code Arrives
PIN 2 is a six-digit code. Visit this website
Page changes to show vaccination booking dates and times for your selected location.
Choose your appointment time. Page updates to confirm your appointment – you'll see all the details, not just the header shown below. You'll also see the date of your second appointment, assuming that your vaccine requires two jabs,
Go for your vaccination!