A Syrian couple, who were forced to seek asylum while on honeymoon in Prague, has now settled in the city as refugees.
And though fitting into a new society is far from a holiday experience, Abdul and Silva are still in love with the city of their dreams.
"If I'm depressed," says Silva, 44, an interior designer from Damascus, "I go to an island on the Vltava and sit and say to myself, 'it's OK, I'm in a wonderful country and yes, I still feel the romance'."
Two factors have helped Silva and Abdul, 42, feel at home in the Czech Republic.
One was the care they received when their son was born prematurely in Prague. The other is that Abdul, who co-owned a furniture factory back in Syria, has found work in a similar line of business with a job at IKEA.
Abdul is a Syrian national while Silva is from the Armenian community in Lebanon but both grew up in Damascus.
Silva graduated in interior design from the University of Damascus. Abdul's degree in commerce and accounting was awarded under an Arab League scheme by the University of Sudan but he did his studies in Damascus.
With good qualifications, both went on to high-flying careers. Silva designed offices while Abdul rose to be a top manager at a large furniture company. Later, the couple had their own furniture business, employing nearly 50 staff.
"We were at the top of our careers, very successful, getting projects from banks and multinationals, but one event changed everything," says Abdul.
The couple were going home on public transport. The first mini-bus that came along was packed. Silva was about to squeeze on but Abdul preferred to wait for the next one.
The first bus blew up in a bomb explosion that killed all on board. Shocked at their own narrow escape, Abdul saw a man howling for a daughter he had lost in the blast.
"I realised how short our lives might be," Abdul says, explaining why soon after they went to Lebanon to get married, then flew to Prague for their honeymoon. This was in January 2016.
When the honeymoon ended, friends advised them not to return to Syria, as the situation had worsened and their lives would be in danger. They went as asylum seekers to Austria and stayed for 10 months in a nunnery before being returned to the Czech Republic under the Dublin Regulation.
By late 2016, they were in a refugee centre in Brno, a less romantic reality, but they soon moved to a flat in Prague. They initially received "subsidiary protection" from the Czech authorities and are now awaiting a reply to their application for full refugee status.
Refusing to complain about anything, Abdul says: "Our whole life has been happy but our love has been deepened by the birth of our son."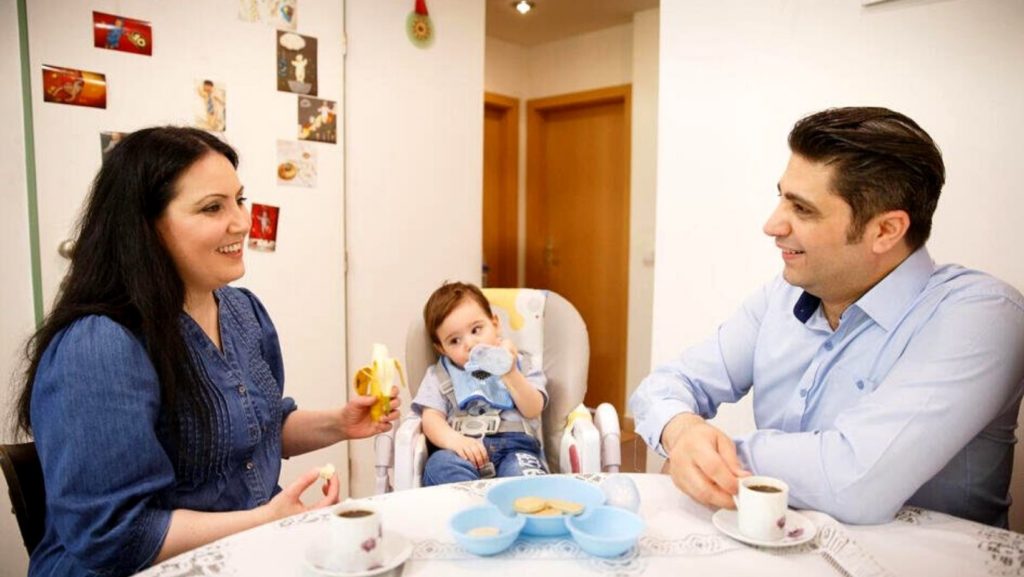 Sam, now a healthy boy of 18 months, was born prematurely in Motol Hospital, weighing only 1.3 kg and hardly bigger than the palm of his father's hand. He had to spend a month in an incubator.
"We were strangers, in a strange country, and a birth with such complications," says Abdul. "But the hospital staff were so supportive, treating us as their own family. The experience made us feel at home in the Czech Republic, and all other difficulties are petty compared to this.".
Through a social worker, Abdul got a chance to apply for IKEA's Refugee Skills for Employment Initiative, which UNHCR supports. And after training, he got a permanent job as a packer in the warehouse at the Černý Most branch of IKEA.
For a man who once employed nearly 50 people in his own furniture business, this may seem like a demotion. But Abdul, who acknowledges the need to improve his Czech, says cheerfully: "Of course I want to develop my career but my aim at the moment is simply to work."
Silva too would like to get back to work but for now, she is on maternity leave. She pours her design skills into making a bedroom for Sam.
The little boy will grow up speaking Arabic and Armenian at home. But he will also know Czech. And like every Czech child, he will love Krtek the mole, the hero of Zdeněk Miler's famous, magical tales.