On Saturday, September 11 you can celebrate experience Americká street (and now also Záhřebská) differently.
Meet the neighbours, taste traditional Mexican cuisine, listen to Czech and expat DJs and bands. Between 11 am and 10 pm Americká and Záhřebská streets will turn into a carnival alive with music, dance, theatre, activities for kids and great food. Free entry.
This is the 10th time this event is held at Americká. The inaugural festival will offer bands both Czech and international, DJs at two stages, traditional celebration La Calle Mexicana to mark the independence day, theatre, workshops for kids and Latino dance workshops for adults, tons of food, drinks and great fun for all ages.
This year the activities will spread to Záhřebská street where car-free zone will be created. Municipal library located there will remain open on Saturday and prepare a workshop for children including book reading an entertaining quiz games, while Divadlo 21 will perform fairy tale play for kids at 3 pm.
Omri Goz, the main organiser, invites visitors to enjoy the rich accompanying program. "Newly open 2 deci wine bar will offer music workshop and Danzorama will teach you the steps of Cumbia and Quebradita dances".
The main stage will feature popular bands such as Mariachi Azteca de Praga and Cumbia Cooperativa. One dj stage will be located on the corner of Uruguajská and Americká street and the other will feature djs from popular local alternative Radio 1.
Throughout the day the visitors can sample delicious street food from their favourite bistros and restaurants, including Black Sheep bar, Las Adelitas, Pink Floyd Café, Sapori, La Cave d'Adrien, and many others.
MINT Market will offer original products made by local independent designers, as well as authentic South American goods.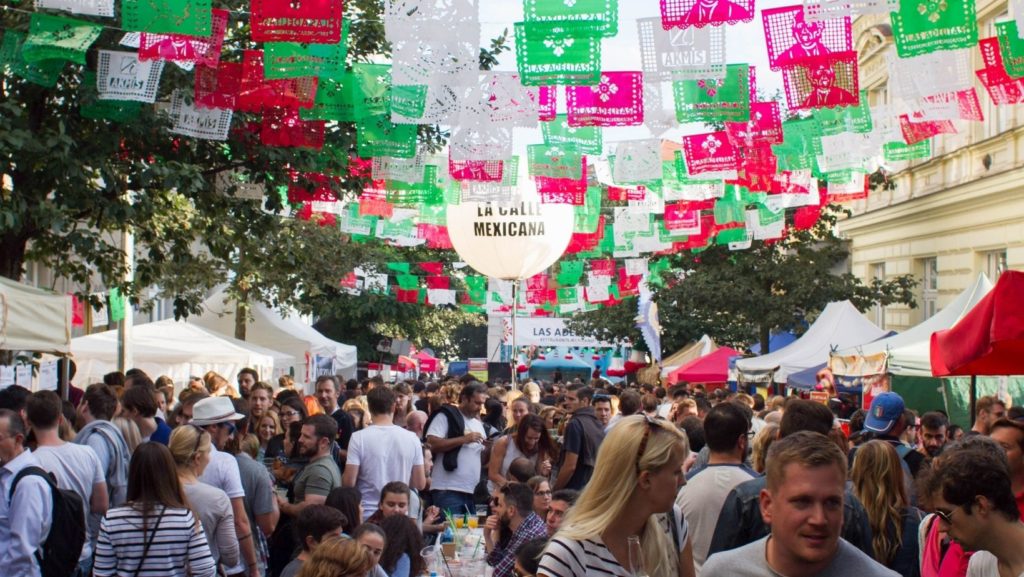 Traditional celebration marking the Mexican Day of Independence will again be part of the event, teaching visitors about Mexican culture from dance to food, such as Chilean wine, Mexican cocktails, authentic coffee, guacamole, tortillas, nachos, chillis and much more.
Non-profit organisations will present their causes, including Den architektury, Integrační centrum Praha, Vinohrady +, Sue Ryder charity shops and more. Bulgarian Orthodox Christian parish will also také part, holding a photo exhibition and offering Balkan food, Bulgarian wines, spices and cosmetics.
"We expand on the original idea behind the event which was to bring together local bars, shops, restaurants, as well as other organisations, groups and businesses. The aim is to connect them with local residents and create a fun day for everyone in place in which they work and live.
The event is held in cooperation with Automat initiative and it is officially supported by the Mayor of Prague 2, Jana Černochová.