Japan's Netflix library contains more top-quality TV and film content than anywhere else in the world, according to a new study by Uswitch.  
The research calculated which countries have access to the best-reviewed and most awarded TV and film content by totalling the IMBD scores for every TV series and film in each country's library.
This was combined with the total number of award wins and award nominations and Uswitch then converted the overall total into a Netflix catalogue score out of a possible 100.
Where To See the Best TV and Film on Netflix
With an IMDB total of 27,284, more than 19,000 award wins and over 40,000 award nominations across its entire Netflix catalogue – Japan is awarded the maximum 100 Netflix catalogue points for its total score of 86,961, highest of all countries.
The Czech Republic is second on the list with a Netflix catalogue score of 97.61. In third place is South Korea with a score of 94.02, the UK has a score of 93.78 which lands fourth place, and in fifth, it's Switzerland with a score of 94.74.
Interestingly, 50% of the top 30 list is made up of European countries, with the United States only just making an appearance in 29th place.
Netflix first became available in Japan in 2015, and the top five IMDB rated TV series and films in Japan's library are: Breaking Bad (IMDB score of 9.5) Shawshank Redemption (9.3), Our Planet (9.3), Avatar: The Last Airbender (9.2) and Rick and Morty (9.2).
The Top 10 Countries In The World With The Best Netflix: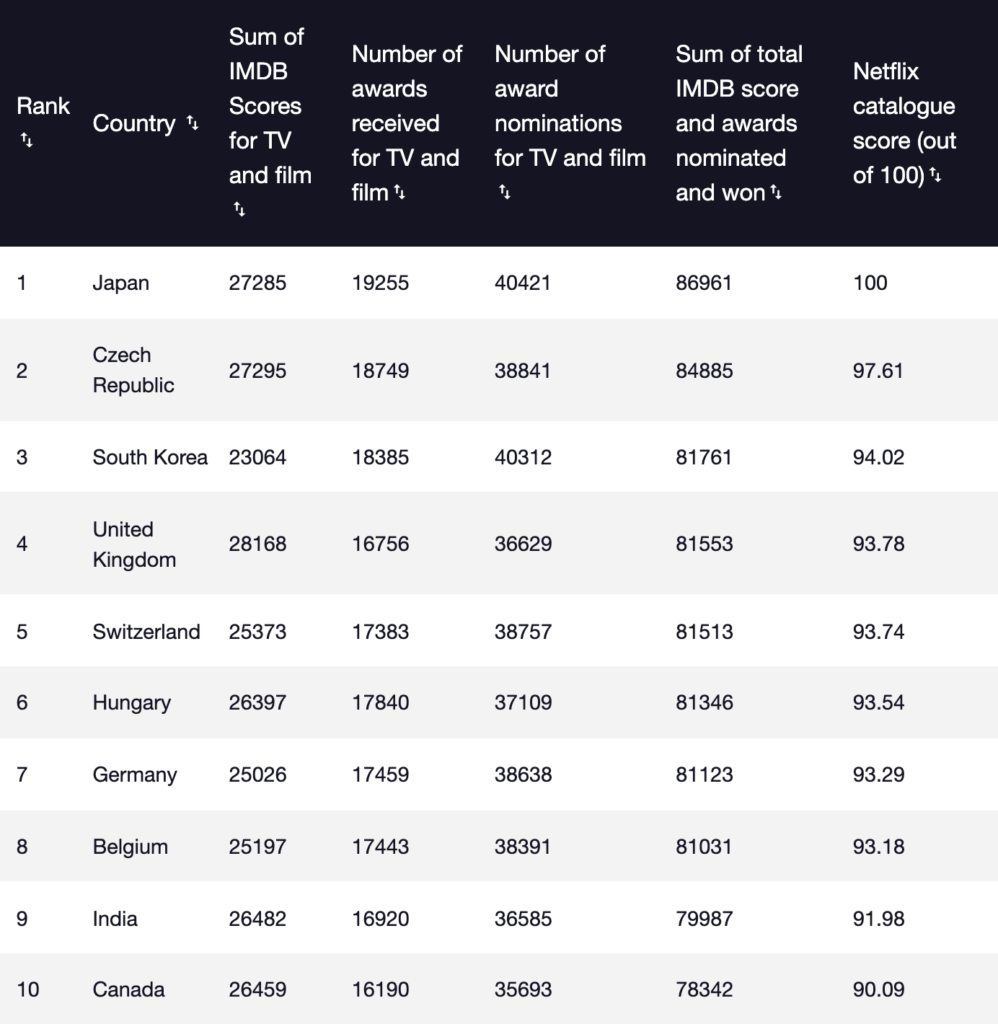 The Countries That Have Access To The Best Films  
The research from Uswitch also looked into which countries are offering the best content for movie buffs, and it shows the Czech Republic has the best library. With an IMDB total of 17,226, almost 15,000 award wins and just over 28,000 nominations, it's officially the country with the highest quality movies on Netflix.  
Japan loses its top spot on this list, slipping down to second place. South Korea takes third place again, and Hungary and Germany are in fourth and fifth place respectively. The UK which was well inside the top five overall, now doesn't even rank in the top 10, slipping down into 12th place. 
The Dream House, with an IMDB score of 9.4, is the highest-rated film on IMDB in the Czech Republic Netflix library right now. Just behind in second, it's Shawshank Redemption (9.3). The Godfather (9.2) takes third, The Consuls Son (9.1) is fourth, and Green Gold (9) is fifth.  
Top 10 Countries with The Best Netflix Movies: