The fitness sector is getting back in shape – but it's a different kind of shape. Gym workouts have been off the cards since the pandemic struck, but that's due to change as vaccination roll-out hits its stride.
In the UK, membership of The Gym Group soared by 33%, from 547,000 to 729,000 in the first months of 2021. And consulting firm McKinsey predicts 5-10% annual growth in the wellness market just because we've become more aware of the fragility of our health.
But the new fitness craze is very much shaped by our lockdown experiences. Gym 2.0 will be a hybrid model of on-site training and 'workout-from-home' – and customers are likely to be more conscious of the price of fitness.
As people consider which gym membership to choose, SavingSpot identified the average monthly membership cost for countries around the world and every state in the US.
Here's a preview of the world map: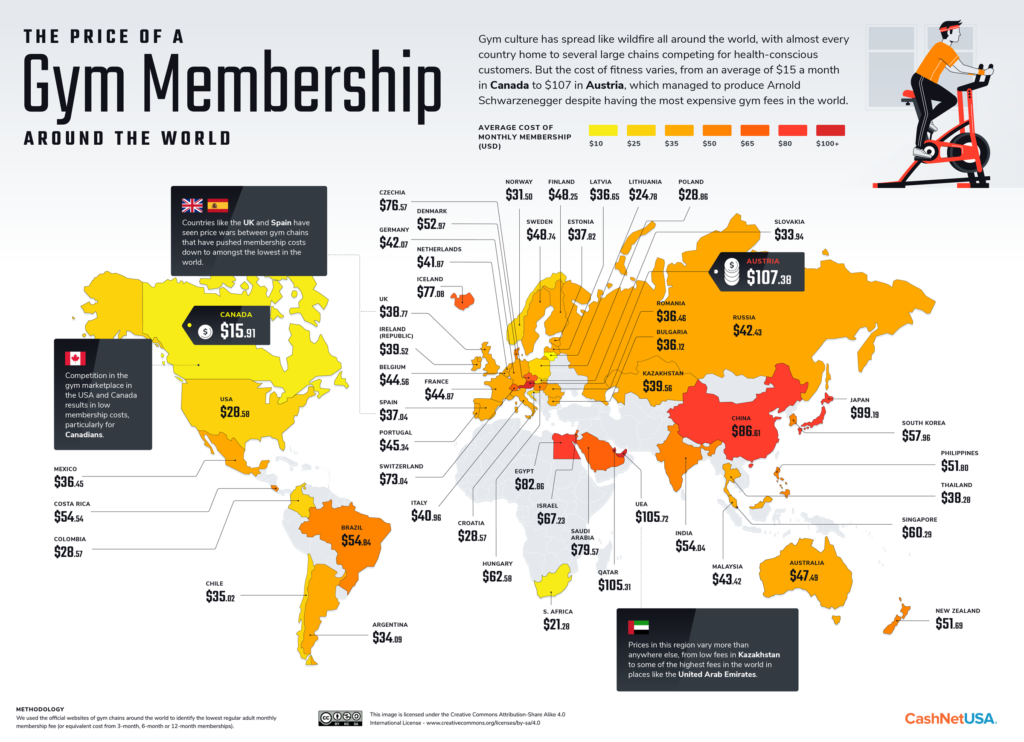 SavingSpot team found gym chains in each country through Google searches and Google Maps and used official websites to identify the lowest regular adult monthly membership fee (or equivalent cost from 3-month, 6-month, or 12-month memberships) for each chain.
These costs were converted to US Dollars through Google Currency Converter and used to find the average monthly membership cost for each country.
See the full research behind the project here.
Key findings:
● Austria has the most expensive gyms in the world, with an average membership costing $107.38.
● Canada has the cheapest gym membership in our study, averaging (US)$15.91 per month.
● Prices in Asia vary more than anywhere else, from low fees in Kazakhstan, to some of the highest fees in the world in places like the United Arab Emirates.