According to the so-called "Nanny State Index" of 2021, residents of the Czech Republic face one of the fewest restrictions when it comes to eating, drinking and smoking, compared with other EU countries.
The think tank deems this worthy of praise, but health experts have their concerns.
Since March 2016, the Nanny State Index has been ranking the European Union's 28 member states according to how easy they make it to eat, drink, smoke and vape.
The ranking considers the extent to which the government in any given country attempts to deter consumption of legal products, for instance by restricting trading hours and advertisements, levying taxes, or imposing outright bans.
From the point of view of the authors of the study, these kinds of paternalistic policies are not an expression of state welfare but questionable and counterproductive measures that negatively impact the quality of life. There is little evidence, they argue, that countries that impose such restrictive policies enjoy greater health or longevity.
There is, for example, no correlation between greater tobacco control and lower smoking rates.
Perhaps surprisingly for a country generally regarded as overly-fond of rules and restrictions, Germany came out on top in the 2021 ranking. The report praised the federal republic, writing that "Germany is the best place to drink, smoke, vape and eat in the EU."
They singled out the lack of a sugar tax on German food as particularly worthy of praise and noted that taxes on German beer and spirits are well below the EU average.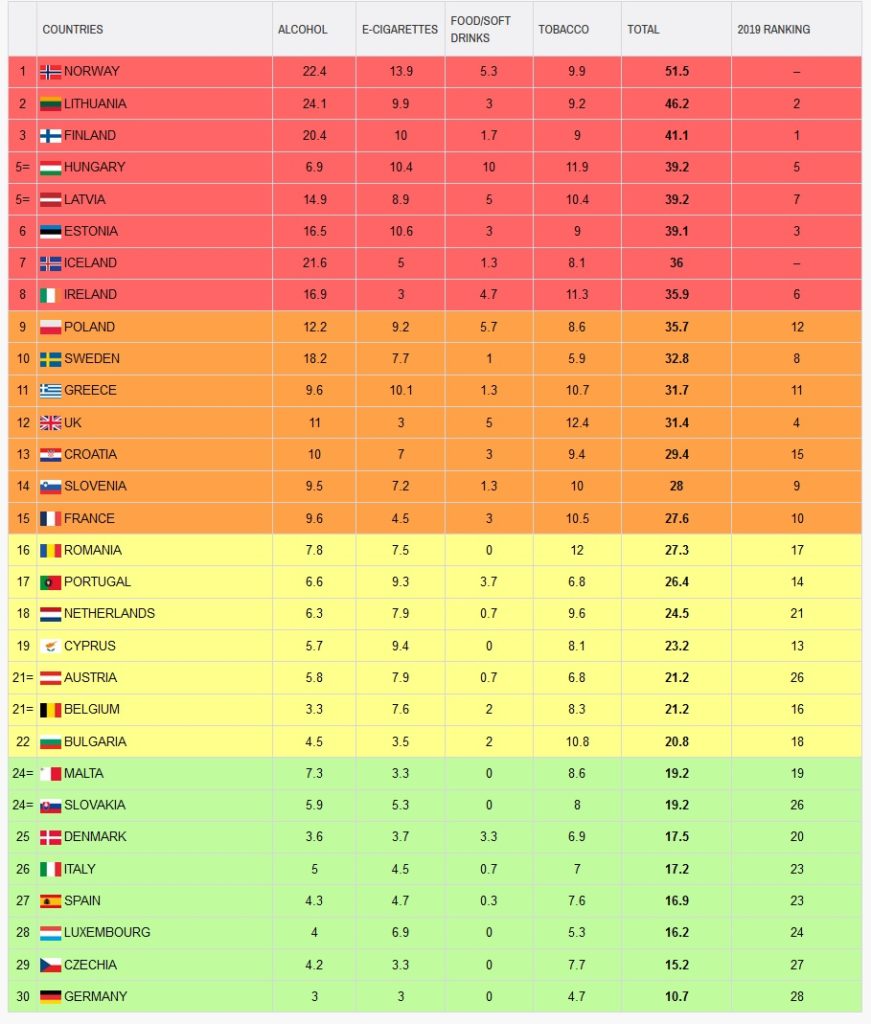 "While in 2016 and 2017, the Czech Republic was at the very bottom of the ranking, ie the least caring, in 2019 it left the title of the "least caring" country to Germany. The Czech Republic's reputation as a port of freedom experienced a shock in May 2017, when a major smoking ban came into force. A public opinion poll conducted at the end of 2017 found that 58 percent of Czechs think that the ban is too extreme," said the director of the Liberal Institute Martin Pánek.
"Thanks to low taxes and the non-existent mandatory closing time, the Czech Republic is a paradise for beer consumers," said Christopher Snowdon, an index author, and analyst at the IEA.