On Thursday, 8 April, Romani people worldwide celebrate International Romani Day. This day marks the first-ever World Romani Congress, which was held near London in Orpington in 1971.
Just like last year, celebrations and commemorations of this important day are being held online.
The Czech Philharmonic Orchestra with Ida Kelarová will organize a gala concert of jazz, classical, and Romani music to mark the occasion, broadcast live on Czech Television on Thursday, April 8th, at 8.15pm.
That congress was also attended by four members of the Union of Gypsies-Roma (Svaz Cikánů-Romů) from Czechoslovakia. In the year 1977, in order to more smoothly organize the Second World Roma Congress, the first international Romani organization was established, the International Romani Union (IRU).
In the Czech Republic, International Romani Day was not spoken of until the second half of the 1990s; the very first celebrations of International Romani Day in the Czech Republic were held in the year 2001 by Athinganoi, the association of Romani university students.
Famous figures who have participated in previous International Roma Day celebrations include Pope John Paul II, the Dalai Lama, and Vaclav Havel.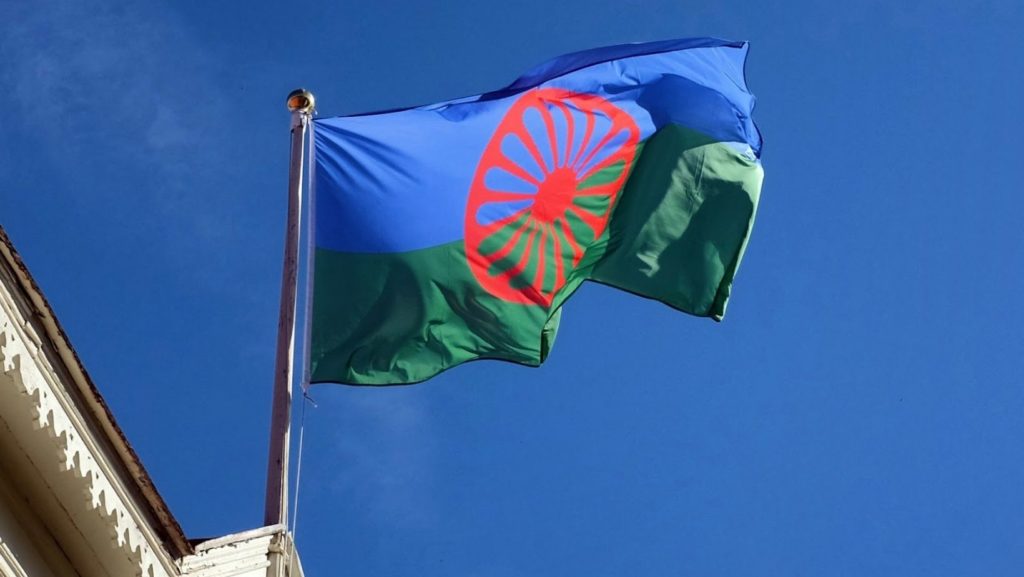 The Romani Flag
The co-creator of the flag was the late Dr. W. R. Rischi, a linguist and Romani Studies scholar from Chandigar, India (who later established a Center for Romani Studies there), who passed away on 1 December 2002.
The flag is comprised of two horizontal stripes, the lower green one symbolizing the Romani people's connectedness to the natural world and the upper blue one symbolizing the heavens, or spirituality, philosophy, etc.
The wheel in the center, which overlaps both bands of color, symbolizes life on the road and pilgrimage and is also based on the ancient Indian wheel of fate. Originally it had 16 spokes, the bright red color of which corresponds to the first chakra, the element of the earth.