Prague Morning had the opportunity to interview the staff behind Caviar Club, a successful and local seafood distributor, who are now venturing into the fields of gastronomy.
We had a chance to taste their delicious meals, made by their appointed chef, who had previously worked in a Michelin-star restaurant. Here is the full interview with the owner Marc Lucas of their intriguing and inspiring entrepreneurial and culinary journey.
Tell us a little bit about Caviar Club, how did it get started? What brought it to life?
"We started out with selling caviar in 2016, but then since our customers started asking us for other seafood options, we branched out. We now have an amazing collection of seafood – oysters, lobsters, fresh fish, Calvisius caviar, and Froya salmon, just to name a few.
Additionally, in our new Gourmet Shop & Bistro, we have a diverse collection of Italian and French cheeses, and salami and wines. You will not find these products at the supermarkets here in Prague. Our suppliers are from all over Europe. We want people in Prague to have a taste of something different."
What does your brand stand for, in your own words? How do you maintain it, what distinguishes it?
"Ethically sourced, we always try to uphold this. For example, our anchovies and sardines are directly bought from a farm in Croatia, and not from any wholesaler, it's the same with our oysters. We buy them directly from the farms. Our products come to us directly, with no third-party interventions. Another important thing for our company is to break any negative conceptions people might have with fish, especially farmed fish. We genuinely try to only source all of our products from ethical and sustainable farms. Our philosophy is that whatever we do, we try to select the best product from a specific category. It doesn't need to be the most expensive, but the best-quality ones, with what money can get you."
When did you open in this new location?
"We opened Food Republic on the 1st of March. Initially, we wanted to use this new location as a warehouse, but we thought it was kind of silly to keep using it as a warehouse, because it used to be a bistro, and it still looks like one. So, in the end, we made it into our own Bistro/ Gourmet Shop."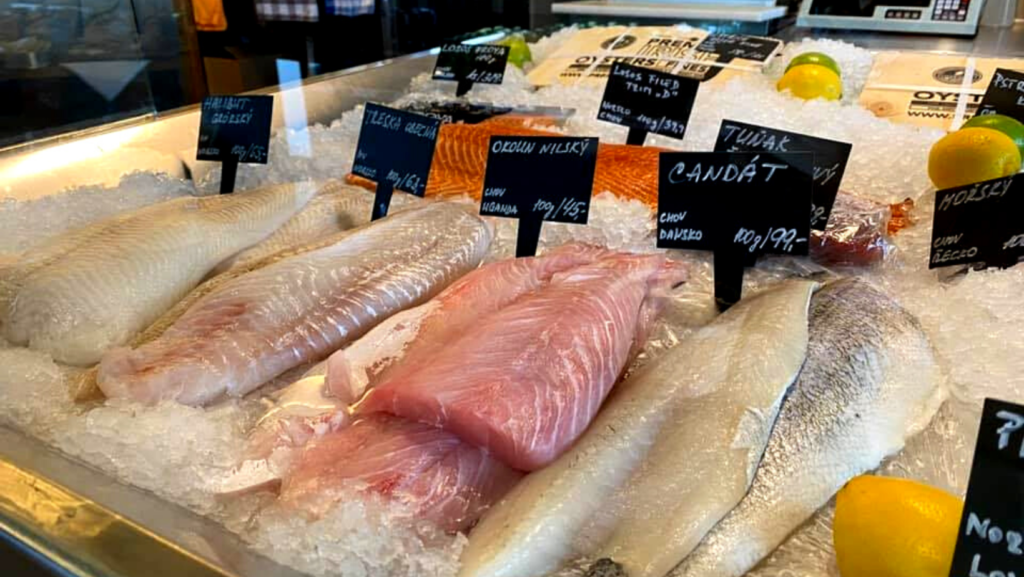 What prompted you to take this initiative?
"Caviar club is a seafood distributor – we supply restaurants in Czechia and Slovakia, from hotels to restaurants. We also supply to Rohlik.cz and Makro.cz. We basically started with being distributors, and then we decided to branch out and open up this gourmet shop this year.
Lockdown has actually, in a sense, helped us decide to go forth with our plans of getting into the bistro side of things. Success on our e-shop also prompted a lot of our clients to ask us if we had a physical shop, and that pushed us even further to just go for it. We have a lot of plans and aims for the near future. We're excited."