Tired of the average croissant and coffee breakfast combo? Hunting down a quiet new brunch spot with tasty treats? Sick of staring down an unchanging menu at the local lunch chain? If so, Café Millème is the place to visit.
Known for its unique and varied assortment of international flavor fusions, every pastry promises a new eating experience. 
Café Millème is the brainchild of the French business team Daniel Biguine and Valexia Panier. An art enthusiast and artist respectively, these two best friends opened the cafe in 2008 with the hopes to unite all the continents through food.
Adine Agakishieva, the third co-owner and the cafe's chef, handles the recipes and pastry making. A Kyrgyzstan native turned Prague resident, Adina received her formal culinary training in France. 
For macarons, the cafe currently offers over 20 flavors, including unique fusions like matcha raspberry, yuzu and chocolate, and yuzu and wasabi.
Other Japanese-inspired flavors include hojicha tea, which is a type of Japanese green tea originating in the Kyoto region. Unlike matcha, the hojicha leaves are roasted at higher temperatures, making for a much sweeter and smokier taste. 
For the less adventurous, the cafe also carries a wide variety of safer (but no less colorful), fruit-flavored macarons. These include apple, rhubarb, orange, and raspberry. Savory food item seekers can also find something at Café Millème, as the store carries an assortment of quiches.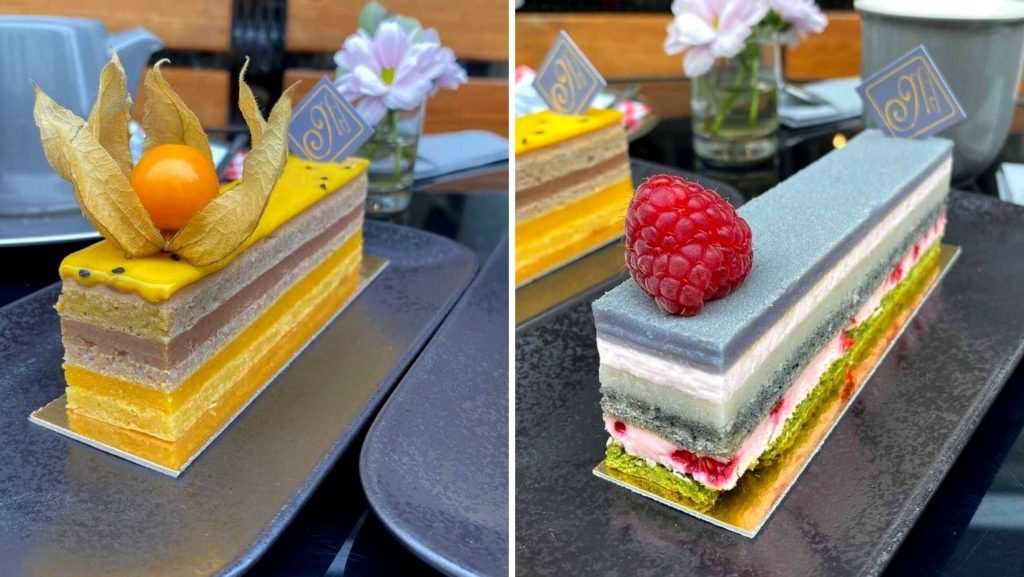 With over 70 recipes in stock, Café Millème changes its menu every season. For the summer the cafe stocks up on fresh, fruity recipes.
As the weather cools, their offered pastries will become creamier in taste and warmer in flavor. Patrons can expect to see classic autumnal recipes with spiced flavors like pumpkin, cinnamon, and chestnut. 
True to Café Millème's artisanal practices and keen decorative eye, these delicacies are elegantly plated, making every dessert an Instagram-worthy work of art. Many of their pastries are also named after cities related to the recipe, elevating the global tasting experience. 
Per Adina, most of the cafe's ingredients are imported; their website lists their chocolate as originating from countries like Mexico, Tanzania, and Madagascar.
They also use cashew nuts from Brazil, pandan from Thailand, and guava from Cuba. Their flour, however, is locally sourced. 
Located at Klimentská 2067/34, Café Millème is open weekdays from 9 am to 7 pm. On Saturday and Sunday, the cafe opens at 10 am but closes at 7 pm and 6 pm respectively.