Prague's specialty coffee scene has grown tremendously in the past few years. Our review series "Your Prague Mug" in cooperation with a certified coffee lover, advisor and expert living in the city, Olga, will let you in on some of the best coffee shop gems in the capital. This week, she headed to the Botanica coffee truck…
Are you ready to see the most 'Instagrammed' place in town? Head down to the Botanica coffee truck in Vršovice -one of the oldest districts in the southeast of the central part of Prague.
You will be greeted by a cozy courtyard, fresh green color, and seasonal decoration- the epicenter of attention being the gorgeous truck.
At this unique coffee shop, the scenery changes depending on the season: everything is screaming "Autumn" now, but if you come in a month, everything will look different, and because there are many plants inside that bloom at different times of the year – the garden never looks the same.
Botanica coffee truck is something that the doctor prescribes to the people of Prague, who are tired of the twilight and cold autumn. The list of treatments is short and enjoyable: drink a classic espresso or a seasonal drink, meditate on various plants in the garden, raise your blood sugar with a little cake, and recharge your solar panel.
The only desire you have here is to enjoy a cup of something hot and let the whole world pass you by.
The truck is always full of fashionably dressed people, happy mothers with children and ladies craving beautiful pictures- chopping up their carrot cake and licking the froth from their cappuccino.
If you want to see the process of making your drink, you can wait right next to the truck where there is a possibility to catch a few exclusive details of brewing coffee and the skill of the barista. Last time I did have to wait about 15 minutes for my coffee. If you want something quick to go, because you are in a hurry to work – this place will probably not suit you.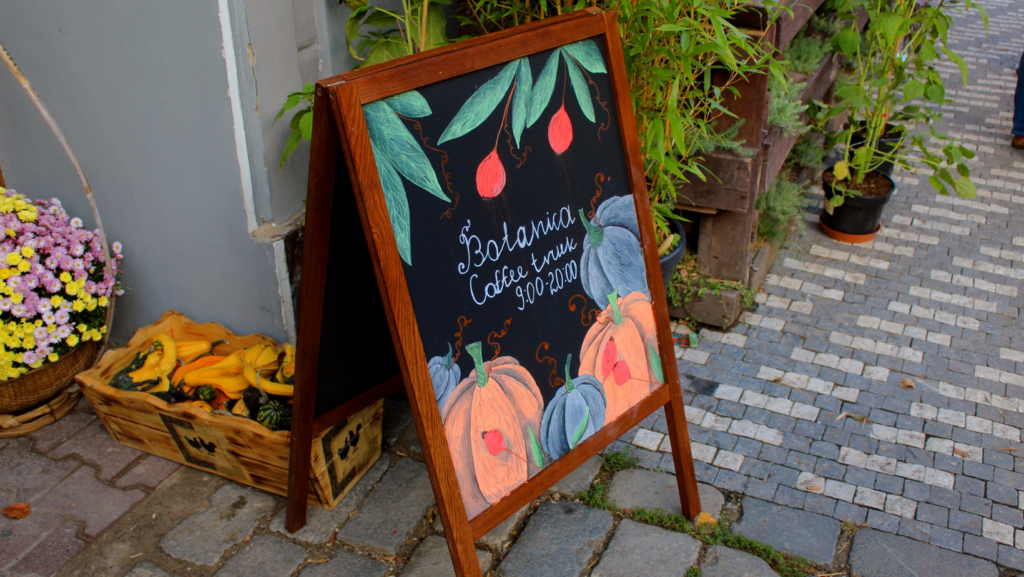 There is also a large flower shop on the territory of the Botanica coffee truck: you must drop in here after a cup of hot coffee and, inspired by the arrangement of plants in pots on the patio, take home one of your favorite plants with you.
I must admit that this was not my first visit to this cafe: I have come here four times already. I believe that to compose an adequate review, you need to visit the cafe a couple of times because it may be that on a certain day the barista is not in the mood, or maybe the coffee shop runs out of milk… However, in my case, I literally have had no luck with matcha every time.
Nevertheless, this would not stop me recommending this place. There is no doubt that this is the shop where you can take the coolest photos and enjoy the unique courtyard with an unusual concept. Will I come here again? My answer is unequivocal yes! But hopefully, I will have more luck with my matcha next time!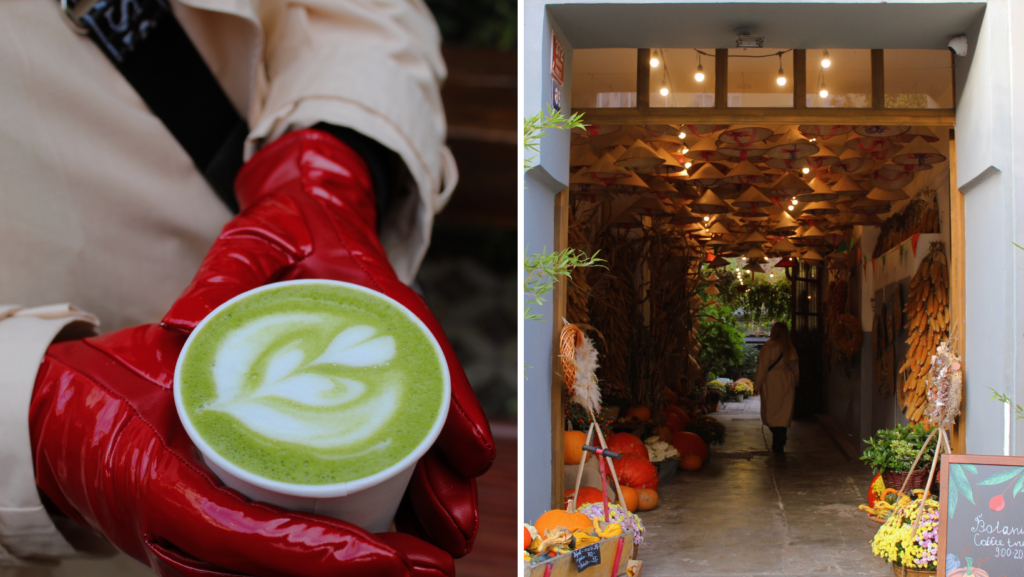 Info
Opening hour: Monday – Sunday 9:00 am- 8:00 pm
Address: Moskevská 372/35, 101 00 Praha 10-Vršovice
Olga holds regular coffee club meetings, where you can taste different types of coffee, get to know new people, and network. Meetings are held in various coffee shops in Prague so you can visit as many interesting places in the capitol as possible. If you are interested, reach out to her on Instagram, @praguemug, where you will also find more Prague coffee shop reviews.