The notion of street food is gaining popularity and awareness in the streets of Prague: wherever you go, you can notice trucks and pop-ups of the kebabs, burgers, and… hot dogs.
Here are the best places where you can enjoy deliciously and mouth-watery hot dogs, bon appetit!
Located in the heart of Letná, Mr. Hot Dog became the lovely and cozy place for friends gatherings and family meetings. A site offers different types of hot dogs that everyone can enjoy: from classic versions to the Chicago styles. The significant difference between the dogs is the ingredients that are included.
For example, if you order Classic Dog, you will get the classic sausage, bun, and sauce of your choice (ketchup, mustard) or top-up of your preference (fresh onions or cucumber relish) for the price of 59 Kč. In the Bacon Jam & Cheese Dog, beef sausage, deli mustard, caramelized onion with bacon, cheese sauce, and cheddar cheese are included, and this kind of hot dog costs 135 Kč. Vegan options with tofu sausages are also available on the menu.
Additionally, various sliders, fries, side dishes, beverages, and dippings are available on request. A basket of yummy and crispy fries will be 95 Kč without any sauces or dippings. For now, the food is available for pick-up and ordering via delivery application, Wolt, every day.
For the American hot dog lovers, the food truck in Prague 6 is perfect for you! The variety of hot dogs are marvelous, and here you can get classic cheese, New York Style, Ham & Egg, Ham & Cheddar, Texas, and Southern hot dogs.
The choice of which one to try tonight is entirely up to you: spicy, cheesy, salty, or all in one! The starting price for the hot dog is 60 Kč.  For instance, the Texas Dog includes beef chili con Carne, red onions, grilled cheese (gouda or cheddar), and a sauce with jalapenos. This hot dog will cost 130 Kč, but it worth a try.
At Dogfather, you can also try sandwiches if you are not into hot dog culture. There are four main variations – American, cheese club, pulled pork, or Caprese. Different options of fries with fruity and refreshing lemonade are available as well.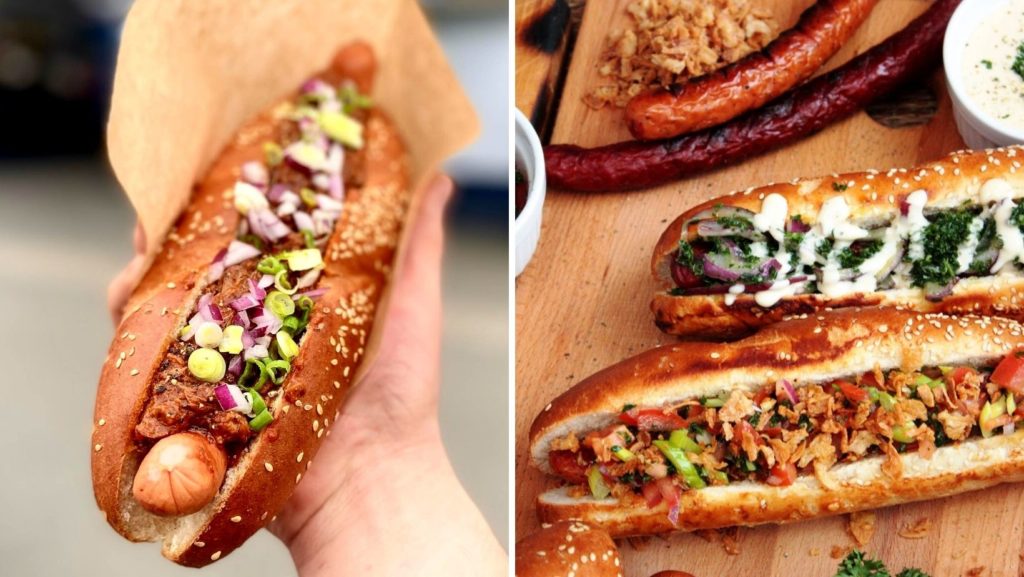 At Beers and Cheers, you can find outstanding burgers, hot dogs, combos, weekly and party deals, and craft beer. You can also obtain a certificate as a gift for the amount of 500 Kč or 1,000 Kč.
As for the hot dogs, there are two types between which you can choose what you like more in your tummy. The first option is Chilli Cheese Dog for 135 Kč, and it is a perfect selection for spicy lovers. Several ingredients such as sausage, beef chili, cheddar, and spring onion are included in the dish.
The second hot dog is Ney York City Style Dog, the main components: sausage, bacon, onion, sauerkraut, pickles, mustard, and parsley.
In the hot dog double combo, several dishes are included for the optimal price of 400 Kč. When ordering this combo, you will get two hot dogs from the menu of your choice, two potato chips, and two beers (Zlatá kráva).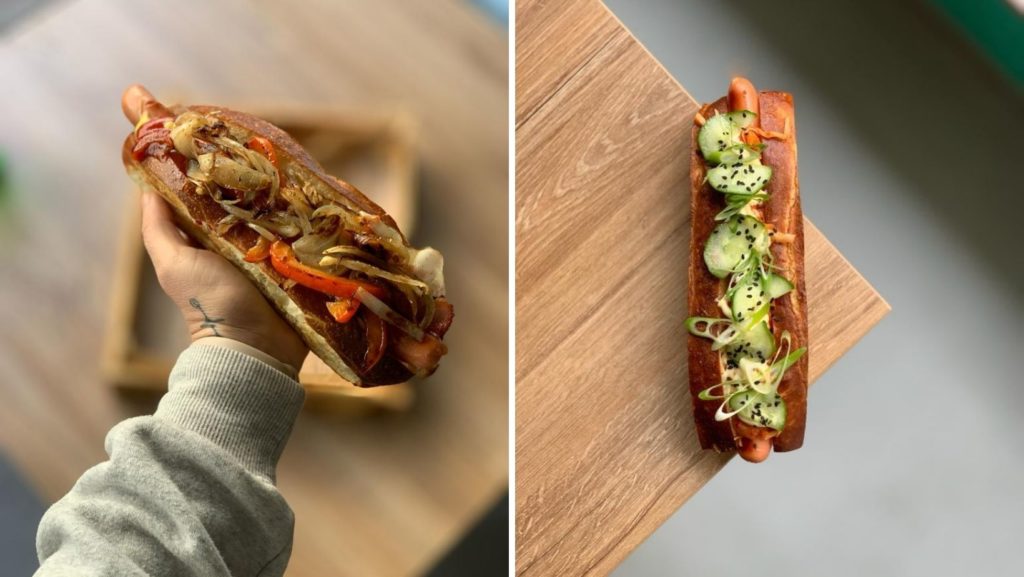 Párek v rohlíku – Ladislav Červený
Our local tip is to try hot dogs from the master of its craft Ladislav Červený. Some of the guides say that it is a classic Czech dush, and you have to try it during the stay in Prague. This popular stand is located on Náměstí Míru, where you can sit afterward and enjoy the meal with a magnificent view.
There are different types of dogs available for you with various sauces (ketchup, mustard, or tartar) and you can try them during the day. However, be careful, in the morning, there could be a long queue of customers who wants to catch them before school or work!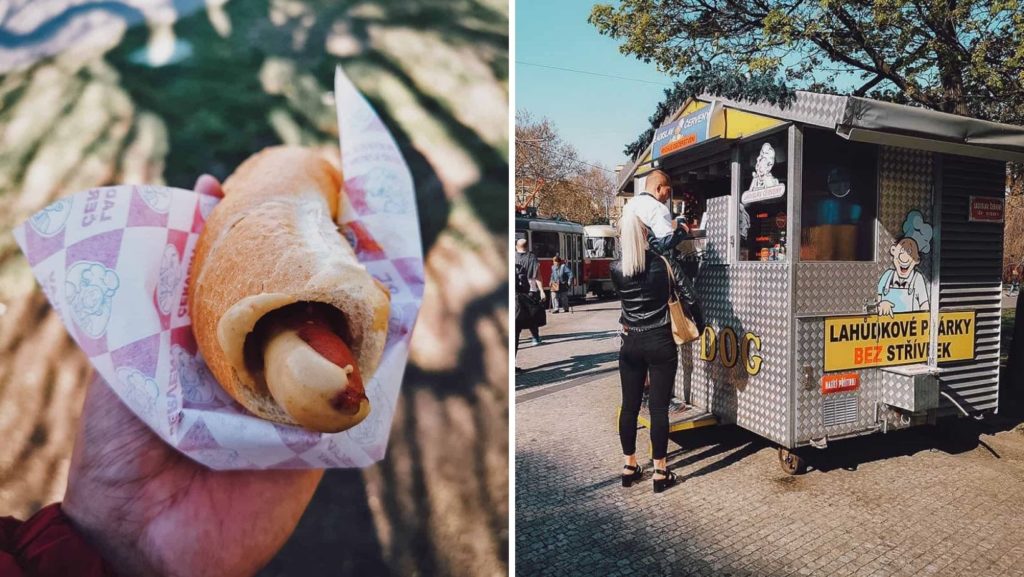 IKEA
For our vegan foodies, we advise you to discover the IKEA store. Launched recently, the veggie hot dog is made from kale, red lentils, quinoa, and ginger in the soft and fluffy bun that is topped with crispy fried onions and mustard.
In IKEA's home country, Sweden, the hotdog approval rating exceeded 95%! For this delicious experience, you will pay as low as 15 Kč, so it worth a try!
In the following year, IKEA is planning to implement other vegetarian items, including plant-based ingredients. In fact, the store sells more than 100 million hot dogs annually all over the world.