Prague is a city filled with picturesque courtyards waiting to be discovered and visited. One might be looking for tea while others might just want to find a bit of peace and quiet to relax.
Others might be looking for inspiration and creativity, or maybe just looking for a bit of fun and good music. We have found 9 places you can visit.
1.SmetanaQ Café & Bistro
Smetanovo nábřeží 334/4, Prague 1, MON – SAT 8: 00–21: 00, SUN 9: 00–20: 00
This café and bistro has an inside flooded with culture and art constantly mixing and mingling. SmetanaQ is filled with beautiful alcoves looking over the Vltava where one can enjoy a lovely breakfast to start the day or join the café in the evening for an Instagram-worthy homemade lemonade or a classic Aperol spritz.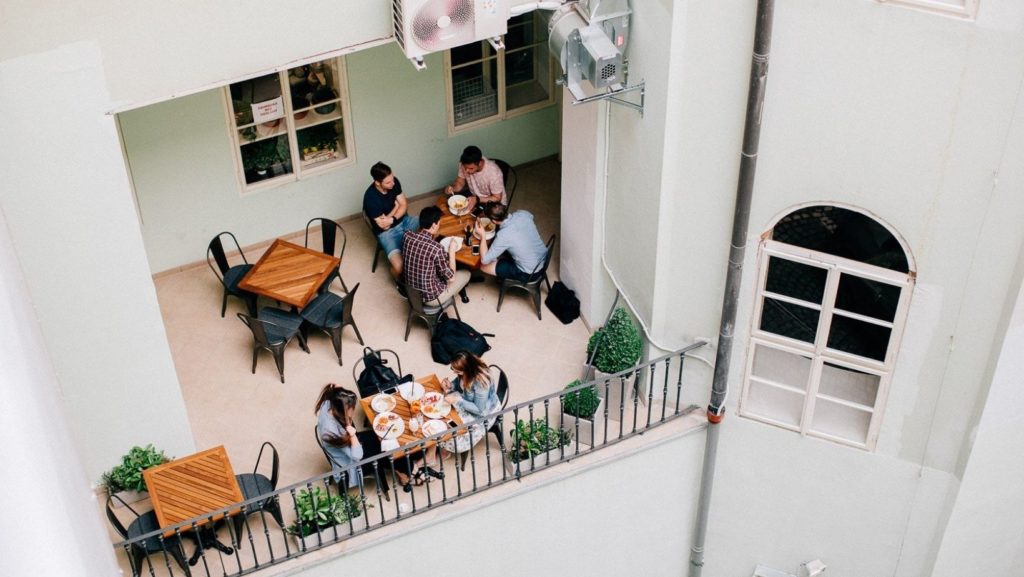 2.Vnitroblock
Tusarova 791/31, Prague 7, MON 12–22: 00, TUE – SAT 9: 00–22: 00, SUN 9:00–22 :00
Vnitroblock is a multipurpose space. It arranges the most different events for you, from exhibits to street food markets, and is surrounded on all sides by residences making it cozy in the middle. You can find the tiniest Pikikino, Dudes & Barbies Gallery, vinyl record store, multimedia studio, vintage and limited selection sneakers from a shoe store. Then take a seat in the garden while enjoying a snack from the Booze & Food food truck.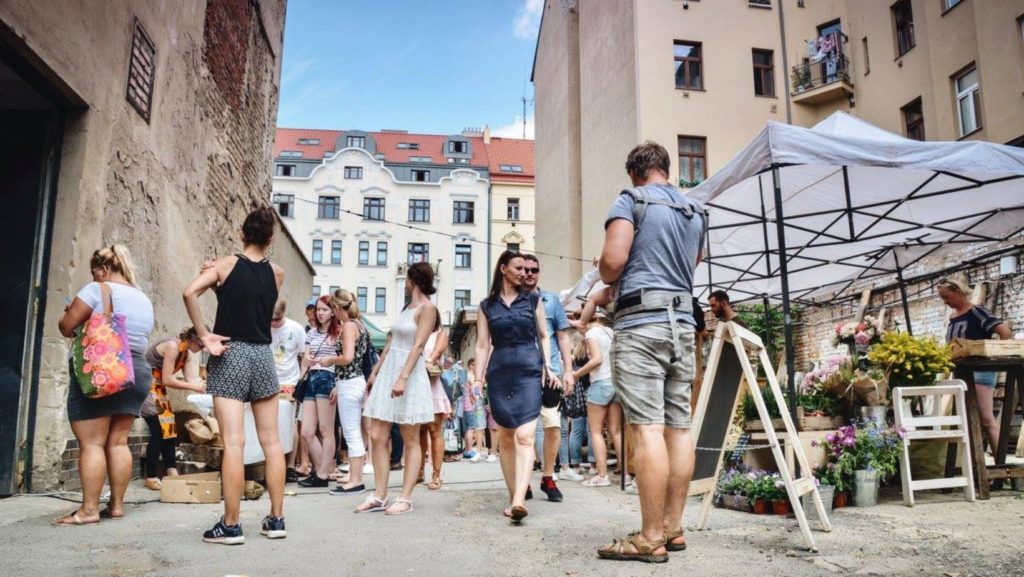 3.BERLIN
Lublaňská 59, Prague 2, MON – SUN 11: 00–22: 00 (summer terrace)
Just a few meters from IP Pavlova, you can find this modern courtyard, filled with fairy lights, candles, and plants. Large wooden tables surround this place, perfect to meet up with friends. In the evening you can enjoy a wide range of different cocktails to choose from. BERLIN also offers the perfect spot to take your laptop where spend your day as "digital nomad."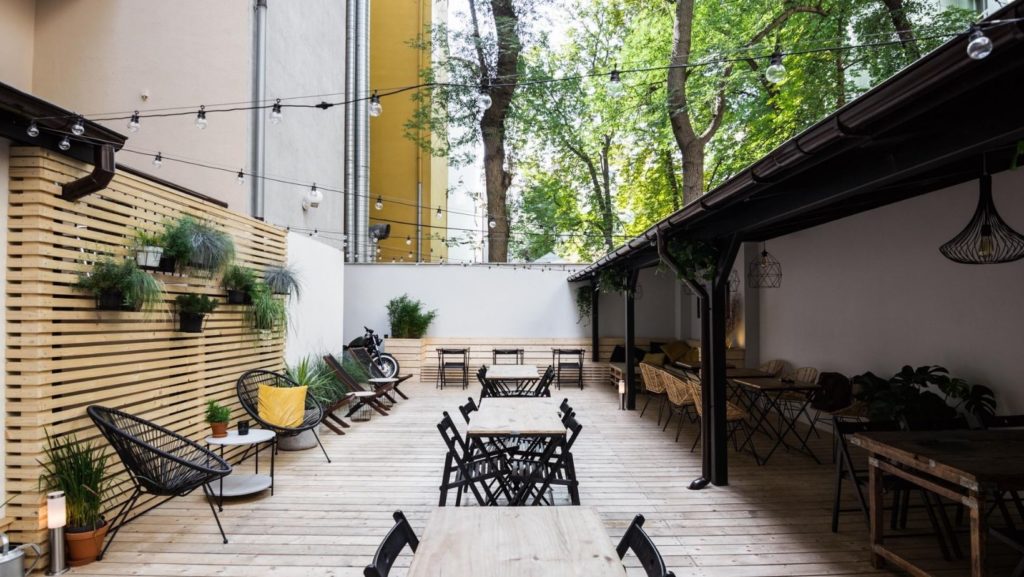 4.Secret Garden Prague
Míšeňská 10, Prague 1, MON – SUN 9: 00–19: 00
This picturesque courtyard is filled with a secret garden that will definitely make you fall in love with the view of the river. The courtyard cut you off with a passage from the busy streets outside. You can also taste a delicious afternoon coffee cake while sitting in an ivy nook while admiring the hydrangeas bloom and submerge your thoughts with the sound of the fountain!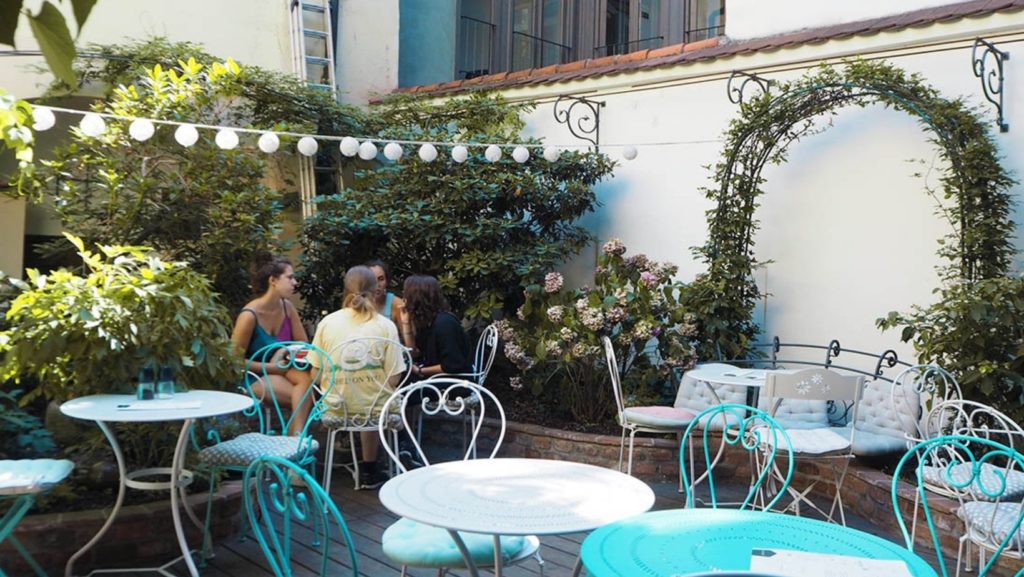 5.Tibet Open House
Školská 28, Prague 1, Tue – Fri 13: 00–20: 00, Sat 11: 00–18: 00
Another lovely garden and courtyard may be found on Školská Street. The Linhart Foundation launched this initiative as a consequence of a long-standing interest in Far Eastern culture. Through fascinating lectures, exhibitions, and workshops, it strives to bring the culture, philosophy, and beauty of the places closer to the general public.
At the Tibet Open House, you may participate in regular meditations, study the basics of Tibetan, attend music concerts, or see documentaries and videos.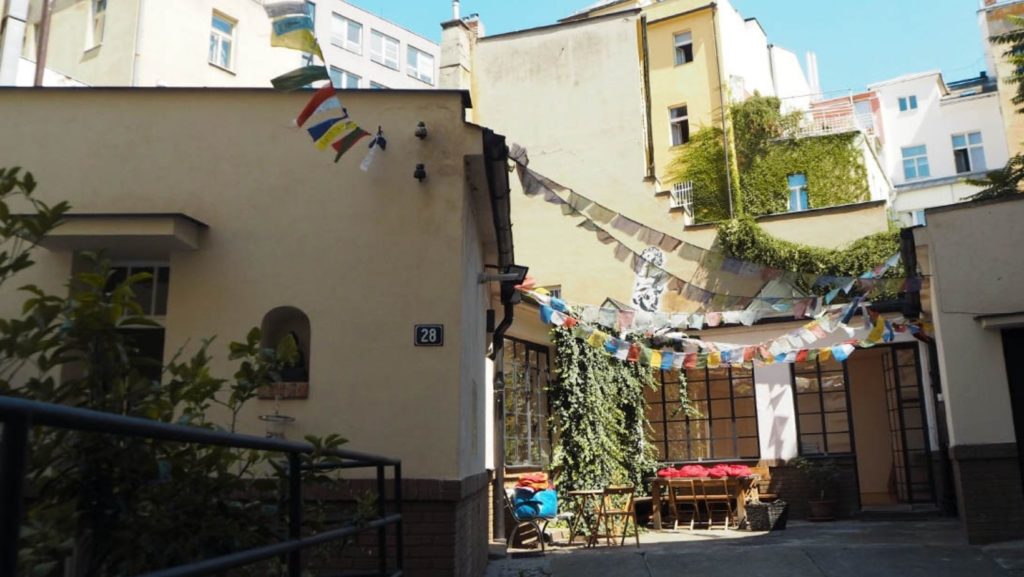 6.Super Tramp Coffee
Opatovická 18 (passage Spálená 15), Prague 1, MON – FRI 8: 00–20: 00, SUN 10:00–17: 00
It's probably the best-concealed café in the heart of Prague. If you look carefully, you'll find it in the courtyard of a building between Opatovická and Spálená streets. Pass through dark passageways and then – suddenly – a courtyard opens out before you, resembling something from a post-modern film.
The most striking feature is a pseudo-ancient arcade culminating in the upper floors with a terrace of mock ancient columns. And directly opposite stands Super Tramp Coffee, under the terrace of another veranda that, just for a change, features imitation Baroque columns.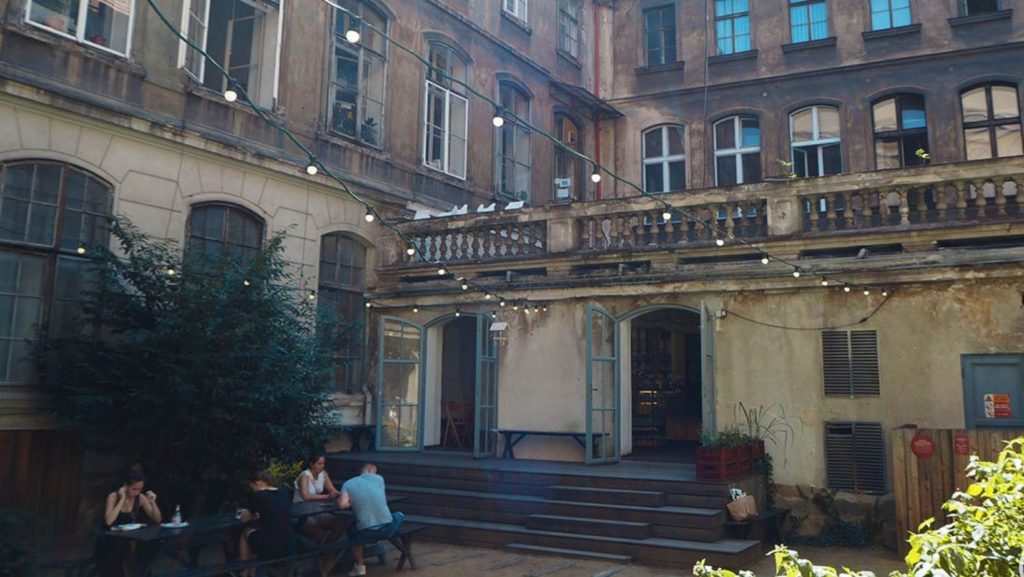 7.Kino Aero
Biskupcova 31, Prague 3, MON – FRI 10: 00–23: 45, SAT – SUN 11: 30–23:45
Kino Aero is both a meeting point for locals relaxing in the outdoor courtyard and indoor retro café, as well as for the movie fans waiting for the carefully selected movies.
The outdoor courtyard is especially popular during the summer season when you can relax on benches, meet interesting people, and have a delicious beer on tap for reasonable prices. Inside is a newly reconstructed retro bar with drinks and snacks where you can spend your time before or after the movie and even meet filmmakers or other movie enthusiasts. What is most important, the films are offered mostly in English, that you might appreciate, especially with Czech movies.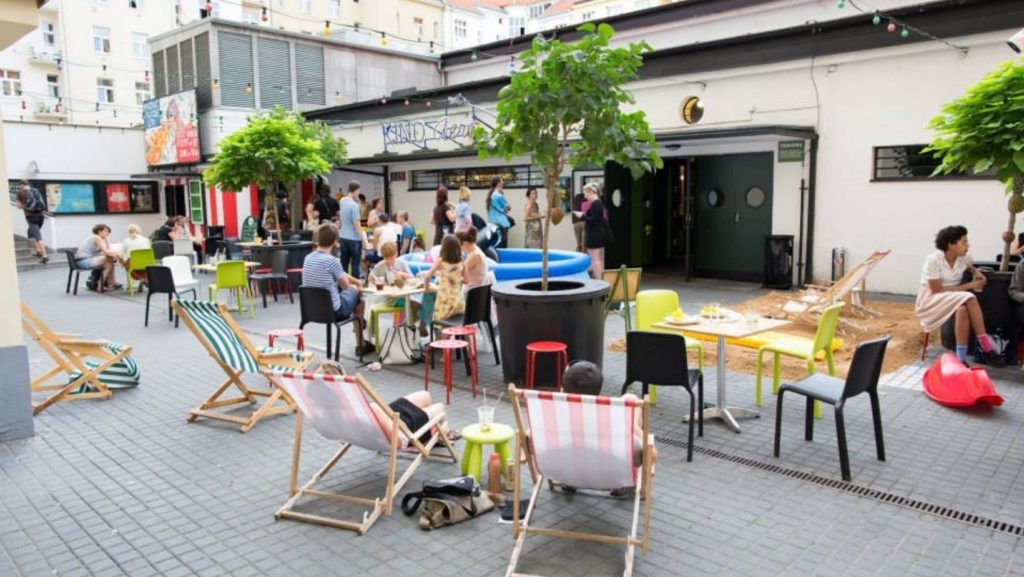 8.My Coffee Story
Štítného 8, Prague 3, MON – FRI 8: 30–20: 00, Sat 9: 00–15: 00
My Coffee Story is a charming café near the Husinecká tram station. You may have a delicious breakfast and relax outside in a lovely garden between two-family homes. You may also choose to have a cup of coffee in the shade of the trees, courtesy of La Bohème Café and Lucaffe.